UT Ladakh exports first batch of Lilium flower to Delhi 
By
Reach Ladakh Correspondent
Leh, Aug 11, 2022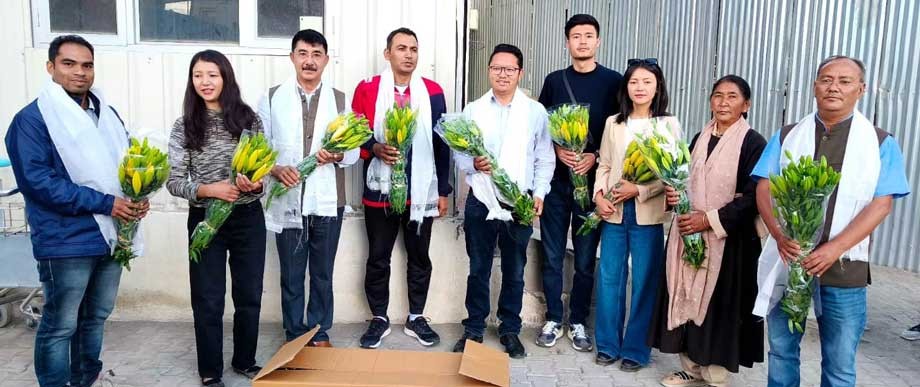 Leh :
Ladakh exports the first batch of Lilium flower to the New Delhi market on August 11. 
Ravinder Kumar, Secretary, Agriculture, and Executive Councillor, Stanzin Chospel, LAHDC Leh in presence of Chief Agriculture Officer Tashi Tsetan, Chief Horticulture Officer, Tsewang Phunchok flagged off the first Lilium consignment from Kushok Bakula Rinpoche airport. The consignment consists of approximately 800 flowers sticks which were shipped to Mandi of New Delhi
Women self-help groups from Sankar and Phey and entrepreneurs from Choglamsar, Sankar, and Spituk villages were also present.
Young entrepreneur Dr. Rigzin Tsewang who had done his Ph.D. degree in floriculture studied for 2 years on floriculture in Ladakh. His experiment on floriculture was supported by CSIR-IHBT PALAMPUR Himachal Pradesh and the Department of Industries and Commerce UT LADAKH. After completing the study, the first batch of Lilium flower consignments was sent to New Delhi from Leh Ladakh through Stork Cargo.
After the successful export of apricot and apples, floriculture is another sector of horticulture that has immense potential in Ladakh. Ladakh is blessed with its unique climatic conditions which are more suitable for bulbous flower crops and flowers, especially Lilium, gladiolus and others have a very good scope. Flowers like Lilium are grown as off-season crops in Ladakh when major markets like New Delhi are devoid of this flower during June, July, and August. Ladakh can contribute a good number of these flowers and can fill this demand gap during these off-season months and can reap good benefits.
Such initiatives will certainly encourage other young entrepreneurs in the horticulture sector in Ladakh which can uplift the living standards of young entrepreneurs and women self-help groups to even greater heights. But the floriculture sector is at a nascent stage, it needs a very good support system from the UT government as well to realize its full potential. Free or nominal air freight charges for flower crops and other agricultural products along with distributing high-value planting materials to farmers can be considered by the government which would ultimately benefit the farming community and Ladakh as a whole.