University of Ladakh to organise Youth Festival 'LDUMRA' on August 12
By
Reach Ladakh Correspondent
Leh, Aug 07, 2022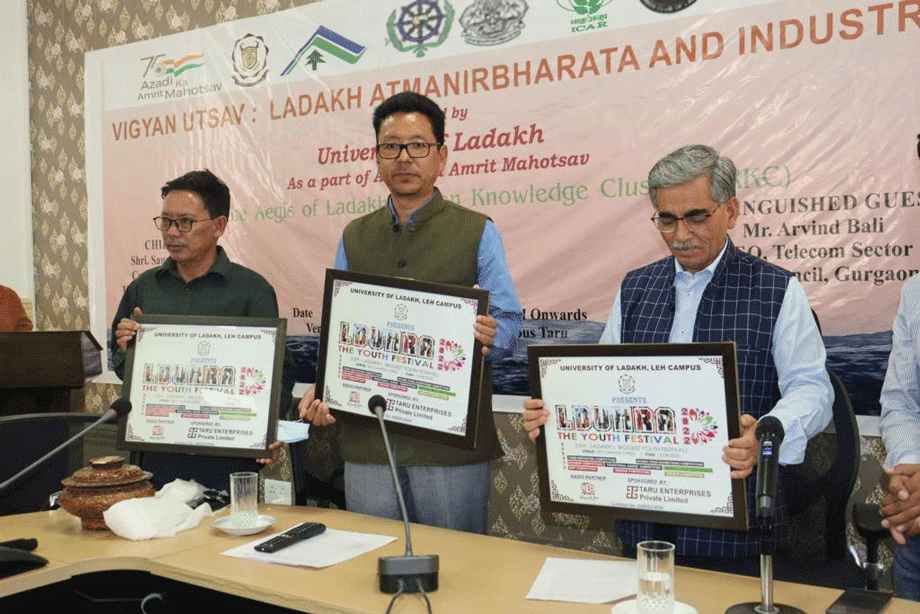 Leh :
University of Ladakh is hosting 1st ever youth festival named 'LDUMRA' for the students of University, colleges, and Higher Secondary schools of Ladakh on August 12 at  Leh Campus (Taru) as per the guidelines of AIU.
The official logo of the festival was unveiled by the Vice Chancellor, University of Ladakh, Professor S.K Mehta on August 6.
Founder, Himalayan Cultural Heritage Foundation, Dr. Sonam Wangchok, Dean Research, Dr. Sonam Joldan, Dean Students Welfare, Dr. Jigmet Dachen, and the faculty members of Leh Campus were present.
The objective of the Youth Festival is to familiarize the students and youth with the glorious cultural heritage of India and also to keep them rooted in the rich heritage and culture of Ladakh. The festivals would open avenues for the budding artists by providing them recognition and encouragement. As far as possible, students will be involved in the organization and management of the festival, to develop their organizational ability and leadership quality. Competitions in various categories such as dance, music, literature, sports, and theatre would be part of the festival. Competitions in the literary category include elocution and poem. Cultural events include solo/group songs, folk dance (Indian), and archery competition (Indian round).
The festival is sponsored by Taru Enterprise Pvt Ltd and Red FM 93.5 would be the radio partner.
Around 500 student artists are expected to participate in this festival. More than 20 institutions, including both the campuses of the University of Ladakh, degree colleges, and higher secondary schools would participate in the youth festival.
As per the latest statistics of UGC, there are more than 750 Universities and 42,343 colleges in India and each university and college has its youth festival.  These festivals have their aura and create a strong reputation among the students. The youth festival is an excellent breeding ground for the exchange of ideas and opinions through different activities. Youth Festival provides an unparalleled forum for the students to test their intellectual and artistic prowess.