Union Agriculture Minister Narendra Singh Tomar visits Dungti village 
Center's priority is to develop border villages says Minister
By
Reach Ladakh Correspondent
Changthang, Apr 12, 2023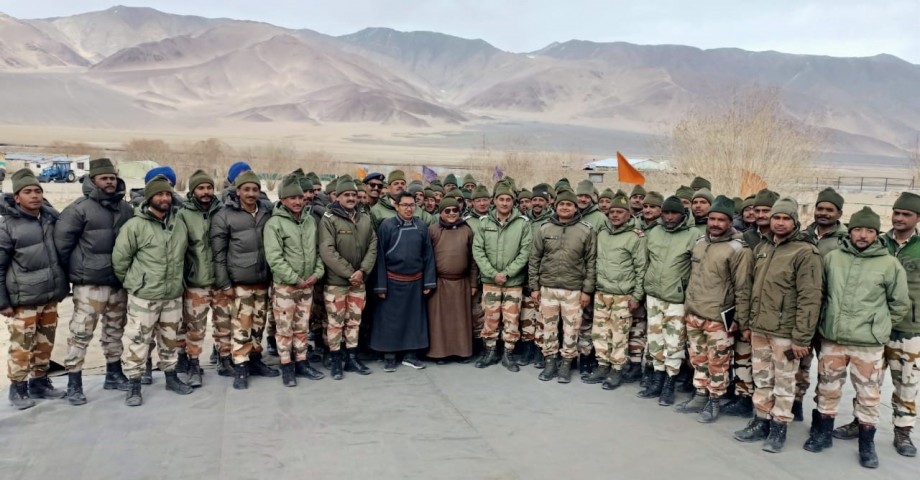 Changthang :
Union Agriculture and Farmers Welfare Minister, Narendra Singh Tomar visited Dungti village on the eastern border of Changthang region in Ladakh under the Vibrant Village Program of the Government of India on April 11.
The minister met the public and listened to their problems and took suggestions, while he visited the ITBP post and KVK, Nyoma.
Interacting with the public at Dungti, Union Minister said that the Government of India is committed to the development of this entire region. He said that the border villages of the country are generally known as the last villages, but under the vision of Prime Minister Narendra Modi, these villages are the priority of the Government of India for development. 
Tomar said that the Central Government aims to give benefits to all the schemes of the Center while providing facilities to the people of remote areas. He said that whatever proposals the Center will receive for the overall development of this region, will be worked upon promptly and whatever can be done by the Center from the point of view of agriculture and animal husbandry development will be done. He said that the entire country is getting the benefit of the welfare schemes implemented by Prime Minister Narendra Modi. All the eligible beneficiaries are getting the full money of the schemes with transparency.
Union Minister also visited the stalls put up by various departments including Ladakh's Health Department, Sheep Husbandry and Animal Husbandry Department, Agriculture Science Center (KVK), Nyoma. During the programme, demonstration kits, machines, etc. were handed over to many beneficiaries by the Union Minister. Tomar also visited the ITBP post in Dungti, where he interacted with the officers and jawans and encouraged them. 
MP Ladakh and DIG Ranveer Singh were also present on the occasion.
Tomar also visited KVK, Nyoma, and said that this area is suitable for both agriculture and animal husbandry. KVK has a very important role in this sector, which is trying to advance agriculture. He emphasized converting agriculture into advanced agriculture, so that the farmers get more profit, as well as gave information about agriculture and farmer-friendly schemes of the Center in the interest of the farmers of the area. He inaugurated the Micro Irrigation Unit and Mushroom Lab and inspected the Green House Unit. He visited the house of the beneficiary of Nal-Jal Yojana and discussed with them the benefits of the scheme.