Two drug peddlers with 584grams of charas in Leh
By
Reach Ladakh Correspondent
Leh, May 13, 2023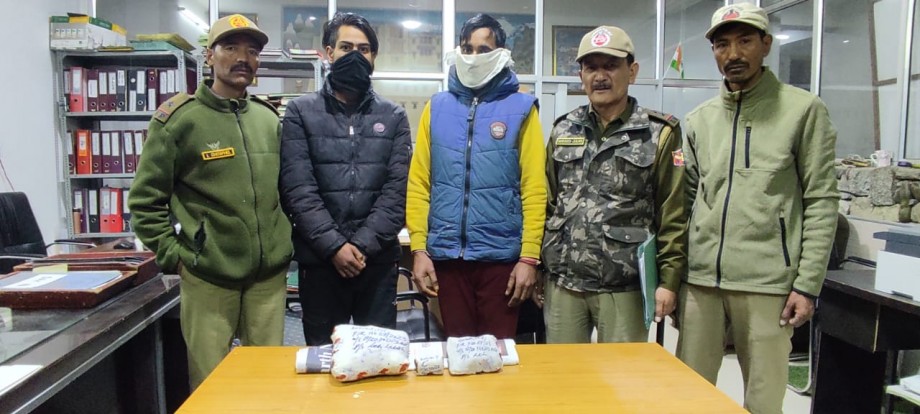 Leh :
District Police Leh arrested two drug peddlers and recovered contraband substances from their possession on May 13.
A police party of Police Station Leh while conducting random Naka checking at Skampari area, apprehended a suspicious person carrying a carry bag. Upon checking the bag the police party recovered Ganja-like substances weighing around 584 gms from the possession of the person namely Surjeet Kumar S/o Bidya Ram R/o Arnoda Doda J&K A/P Skampari Leh.
The case was registered under FIR No 67/23 U/S 8/20/29 NDPS Act at Police Station Leh. Upon further investigation into the case links of other persons, involvement surfaced and one more peddler was arrested on the same day namely Ravi Kumar @Yasir S/O Amarnath R/O Jaganu Udhampur, Jammu A/P Choglamsar. Efforts to further nab the peddlers are being made.
Investigation so far has revealed that these persons sell drugs among the innocent public at very high prices.
District Police Leh requests the general public to come forward with any information regarding drug peddlers and join hands with Ladakh police in the fight against the menace of drugs in the district. The anonymity of the informer shall be maintained and he/she can reach us through www.drugsfreeleh.com or to Anti narcotic Unit of district Police Leh on mobile No. 9541900291, Landline No. 01982-252200 or inform the nearest police station.