TRAI organizes first Telecom Consumer Outreach Programme in Ladakh
By
Fatima Ashraf Barcha
Leh, Jul 28, 2015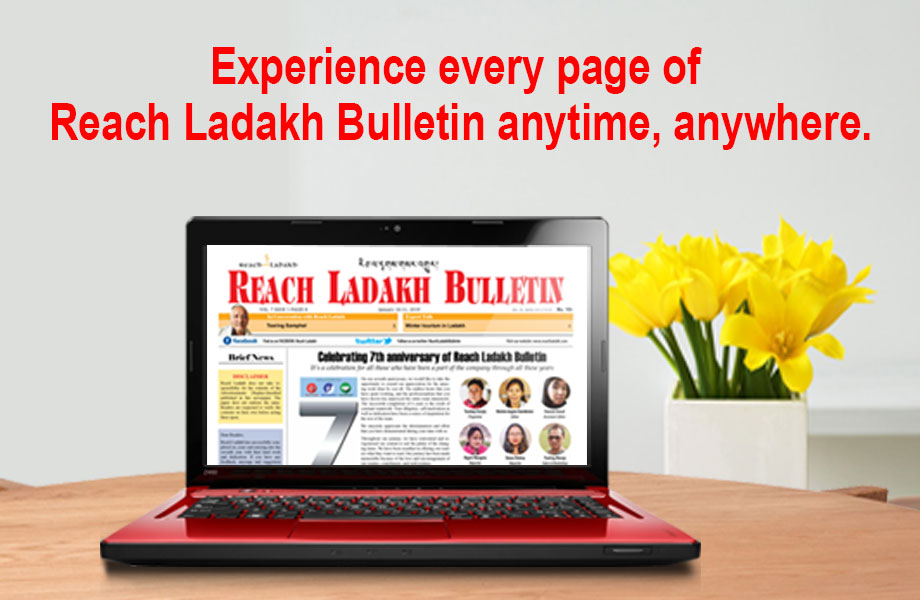 Leh :
The Telecom Regulatory Authority of India (TRAI) organized their first Telecom Consumer Outreach programme in Ladakh at Hotel Grand Dragon on 13th July.
The event was presided over by Sudhir Gupta -Secretary, TRAI New Delhi, Agneshwar Sen Advisor (Consumer Affairs/B&CS) and G.P Vishnoi- Senior research Officer TRAI New Delhi. Nikhil Dev Singh –Assistant Development Manager, Aircel, Stanzin Thubwang- Manager Airtel, Phunshok Dorjey-Telecom District Manager, BSNL were also present with other eminent guests from Delhi.
Sudhir Gupta highlighted about the initiatives taken by TRAI to protect the consumer's interest and various consumer centric regulations, directions and orders issued by TRAI. He emphasized that more information about TRAI's plans can be seen on their website. He also made it a point that TRAI is interested in getting a consumer advocacy group or NGOs registered under TRAI in Ladakh to make people aware of consumer benefitting measures.
Agneshwar Sen explained in his speech about the roles and functions of TRAI, the various initiatives taken by TRAI for the protection of telecom consumers, along with the rights and privileges provided for telecom consumers, TRAI regulations concerning communications (UCC), Complaint Redressal Mechanism and Value Added Service (VAS). He also added that this way they try to create a forum where the consumers can address their problems directly to their telecom service providers. He further said that they have spread their awareness programmes by visiting more than 300 cities in India to listen and act upon the problem and suggestions of consumers directly.
G.P Vishnoi, presented an power point presentation that highlighted that the prime task of TRAI is protecting the interest of consumers of telecom services and what are the TRAI's various measure to make consumers aware of these initiatives.
The highlights of the power point presentation were complaint redressal mechanism where in the consumers can call customer care and address their problem. In case the complaint is not addressed properly then consumers can approach Appellate authority of service provider by visiting the portal- www.tccms.gov.in
Mobile number portability is another useful service being provided by TRAI. Under MNP the mobile user can move from one service provider to another keeping their existing number.
Other highlights of the event were that the consumers have an option to selectively receive telemarketing calls and SMS. Value Added services will be activated only after second confirmation by the consumer and it can be deactivated anytime.
Some more helpful information provided were that prepaid users can get their call details, SMS, data and Value Added services from their service provider for a period of past six months. Also mobile connection of prepaid users shall not be deactivated for any period of usage less than 90 days. There is also an offer for roaming subscribers who can avail for full free roaming or partial free roaming in lieu of payment of fixed charges.
Before the event ended there was an interactive session among the TRAI's representatives, officers of telecom companies, telecom service provider representatives and the audience. As the people of the region face a lot of phone connectivity and broadband problem there were a number of queries and doubt asked.
BSNL and Airtel representatives spoke of the network status in the region saying that in order to remove the congestion they have plans of putting more towers in the region. However Aircel representatives said that apart from their near future plans of making new capacity sites, their consumers have not faced any kind of service problem. But the main issue that these telecom services said have is that they are not give enough land space in Leh region to put up towers. The answer to this issue would have been properly addressed by a Hill Council officers but no one was present on the occasion. Suggestion was made about tower sharing system, constructing towers on govt. buildings and formation of a local committee to understand the capacity needed to make Ladakh digital to sort out all the telecommunication problems.