Three-day teaching of HH Gyalwang Drukpa concludes
By
Reach Ladakh Correspondent
Leh, Jul 30, 2019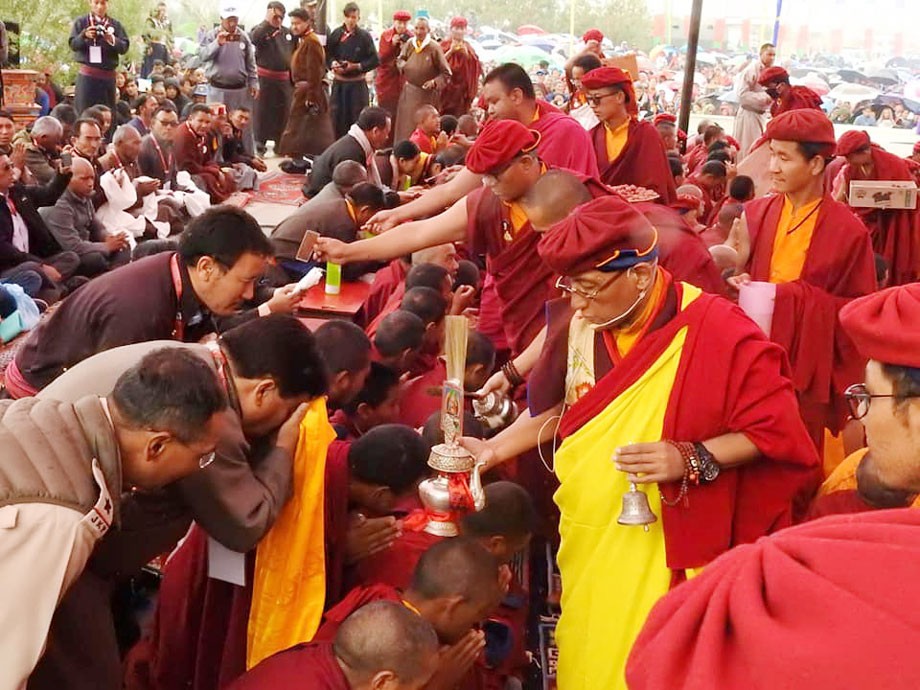 Leh :
With the conferment of long-life empowerment and blessings, three-day teachings of His Holiness Gyalwang Drukpa concluded on July 28 at Nyoma Photang.
His Eminence Thuksey Rinpoche, H.E Palga Rinpoche, H.E Khamtak Rinpoche, and many young rinpoches, nuns, monks and a large number of devotees gathered and seek the blessing.
Taking about the growing environmental challenges, His Holiness Gyalwang Drukpa emphasized to take strict measures to curb polythene and be responsive to the issues. His Holiness also asked people to be sensitive about the issues and challenges of climate change since the impact will be immediate in places like Changthang which has a fragile ecosystem.
Gyalwang Drukpa also stressed on promoting and preserving one's own culture and heritage.
The occasion was organised by Changthang Druk Taksang Zhabzhu Tsogspa. An effort was made to organise the event with zero waste by installing segregation units, reusable water bottles and availing cloth bags for the people attending the teaching.
Gyal P. Wangyal, CEC expressed his gratitude to His Holiness for the blessings. Later, His Holiness launched the third volume of 'Sarzhengs' magazine by SAVE (Nyoma Block Students and Youth Organization). 
Sonam Dorjey, Vice Chairman, Changthang Druk Taksang Zhabzhu Tsogspa thanked His Holiness for visiting Changthang and blessing the people.
Earlier, His Holiness Gyalwang Drukpa visited different villages of Changthang region including Rongo, Hanley, Koyul, Tsaga and Muth.