Surveillance team inspects quarantine centers, offices of HIMANK and VIJAYAK
By
Reach Ladakh Correspondent
Leh, Jul 30, 2020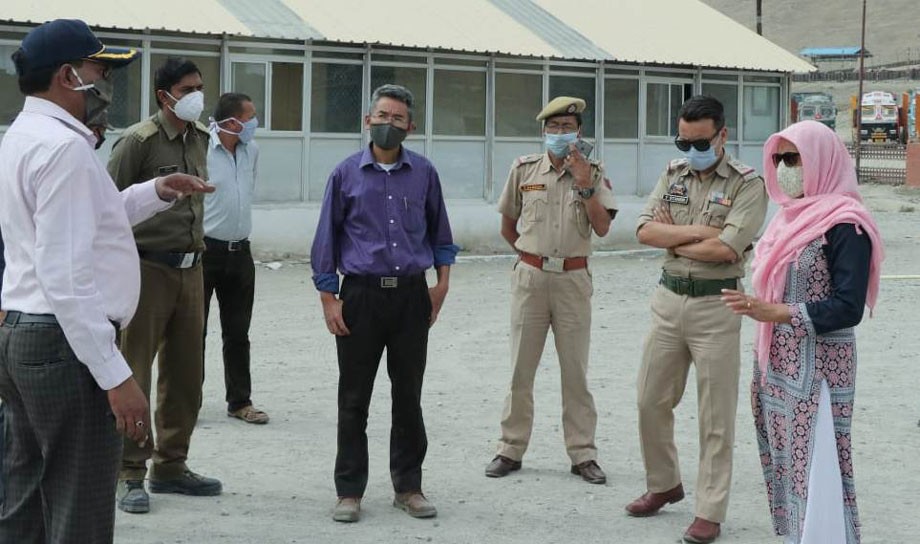 Leh :
Surveillance team comprising Assistant Deputy Commissioner, Leh, Dr. Zahida Bano, Tehsildar, Leh, Tsering Gyurmet and Incharge Police Post, Housing Colony, Sub-Inspector Tsewang Stanzin inspected various quarantine centers and offices of HIMANK and VIJAYAK on July 30.
The inspection was conducted with a view to ensure stringent implementation of COVID-19 precautionary measures, and proper follow-up of the Health Ministry regulations of quarantine facilities for officials and labours on reaching Leh.
The team visited 50 BRTF camp and BRO 81 RCC office at Spituk, and the GE 865 EWS at Gangles. At 50 BRTF, the team visited quarantine camps and interacted with the officials who had reached Leh. They were informed that the labours are being sent to quarantine centers at Upshi. Similarly, at 81 RCC the team was updated that their labours were sent to quarantine centers at Chiling. And their medical team is vigilant about the health of every labour following regular check-up. At GE 865 EWS, Gangles, the team visited quarantine camps of the labours who had reached from Dumka, Jharkhand.
Dr. Zahida Bano instructed proper follow-up of the guidelines laid out by the Health Ministry and regulations of the District Administration in letter and spirit.
The surveillance team on their way also collected fines for not wearing masks in various places. Four labours that were found without COVID negative certificates were sent for institutional quarantine.