Student association leads rally, demands Sixth Schedule for Ladakh
Sarpanches and nambardars extend support
By
Reach Ladakh Correspondent
Leh, Jan 14, 2020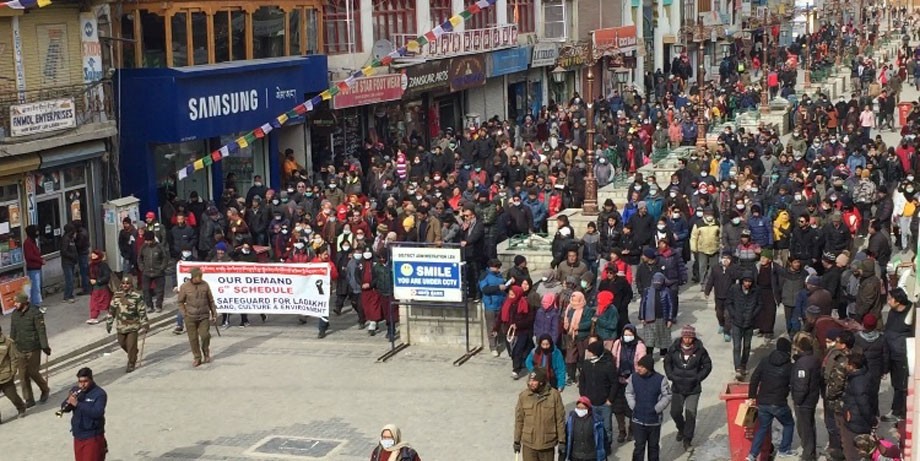 Leh :
A peaceful procession demanding the sixth schedule for Ladakh was organised by student association under the banner Students Organisation of Unified Ladakh (SOUL) on January 12 from NDS ground till the main market.
Supported by sarpanches and nambardar of different villages, a large number of people joined the rally singing traditional songs and playing the traditional musical instrument. 
 
Talking about the significance of the peace protest procession with folk music and songs, Stanzin Tsetan, Advisor SOUL said that the folk songs and music is a part of the culture. They want to spread the message of safeguarding the rich cultural heritage of Ladakh. He stressed on the importance of inclusion of Ladakh under the 6th schedule of the Indian constitution to safeguard the language, culture, environment and identity of the people of Ladakh. 
Addressing the gathering, Rigzin Dorjay, President, SOUL also expressed the importance of sixth schedule for Ladakh. He also questions the leaders and religious heads for being silent on the demand which is the need of the hour after getting Union Territory without any safeguard and protection. 
Ibtesum Iqbal Vice president SOUL; Thinley Nurboo, Coordinator LEAF also spoke on the occasion. 
Meanwhile, an anthem demanding sixth schedule for Ladakh was also released.