Social mobilization campaign "Sangathan Se Samriddhi" held at Bartoo village
By
Reach Ladakh Correspondent
Barsoo, May 05, 2023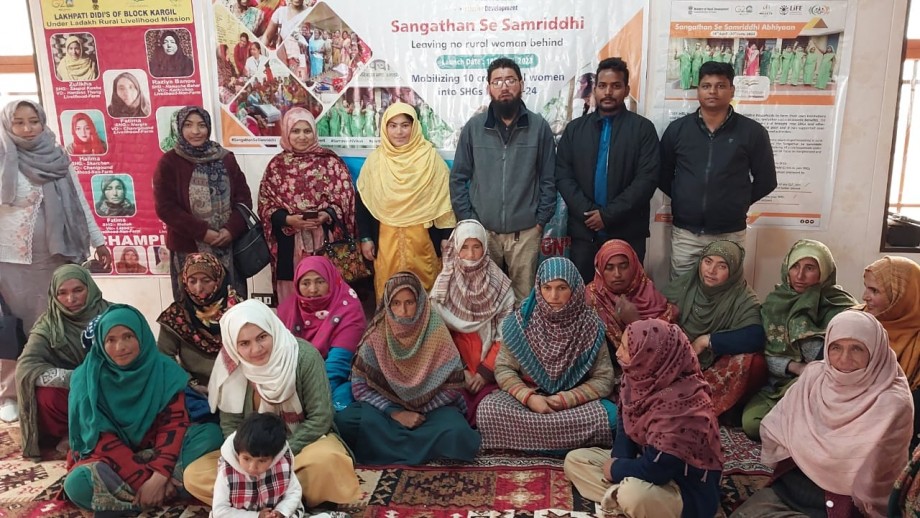 Barsoo :
As part of the social mobilization campaign, the District Mission Management Unit, Ladakh Rural Livelihood Mission, Kargil conducted a mobilization campaign "Sangathan Se Samriddhi" at Bartoo village on May 4.
Nearly 50 women participated in the program and were assured to form a new Self-Help Group of 10-15 women by May 12, 2023. 
The chief guest of the occasion, Hajira Banoo, Chairperson BDC Barsoo talked about the scope of SHGs and the convergence of PRI and LRLM. She thanked the LRLM team for organizing the program. She requested to conduct such programs in the future as well in Barsoo Block.
Zenab Khatoon, Cluster Coordinator Barsoo talked about the services and outreach program of the NRLM Scheme and urge women participants to avail the benefits and opportunities under the scheme. She said women are part and parcel of society and have an equivalent role in socio-economic and political change.
Archo Tahira, Cluster Coordinator shared her experiences with the Ladakh Rural Livelihood Mission (LRLM). She had been to Telangana State for an induction-cum-exposure tour organized and supported by LRLM Ladakh. Tahira said she was encouraged while seeing the work and activities of SHG members of Telangana.
Rahila Khatoo, Block Program Manager, Barsoo talked about food, nutrition, health, etc., and stressed the village women to become change agents and social reformers by participating actively in strengthening the healthcare system in the village. While explaining the importance of health, she urged to remain healthy, eat hygienic food, and give preference to local food.
Muneer Rasul Wani, District Project Manager talked about the objective and mission of the campaign and stressed village women to be self-reliant and empowered. He said through the SHGs, women can become successful.
Muneer also encouraged women to carry out activities excluding household chores so that they can also contribute to socio-economic development. She also informed about the opportunities of LRLM for poor women and urged women to be well organized to become successful.
Anwar Ali, Panch talked about the present status of the village. He thanked the LRLM team and Rural Development and Panchayat Raj Department for organizing the fruitful program.