Skyabgon Chetsang Rinpoche launches farm stay in Phyang
Aims at reviving rural life and to enhance socio-economic status of farmers
By
Stanzin Dasal
PHYANG, Jun 30, 2016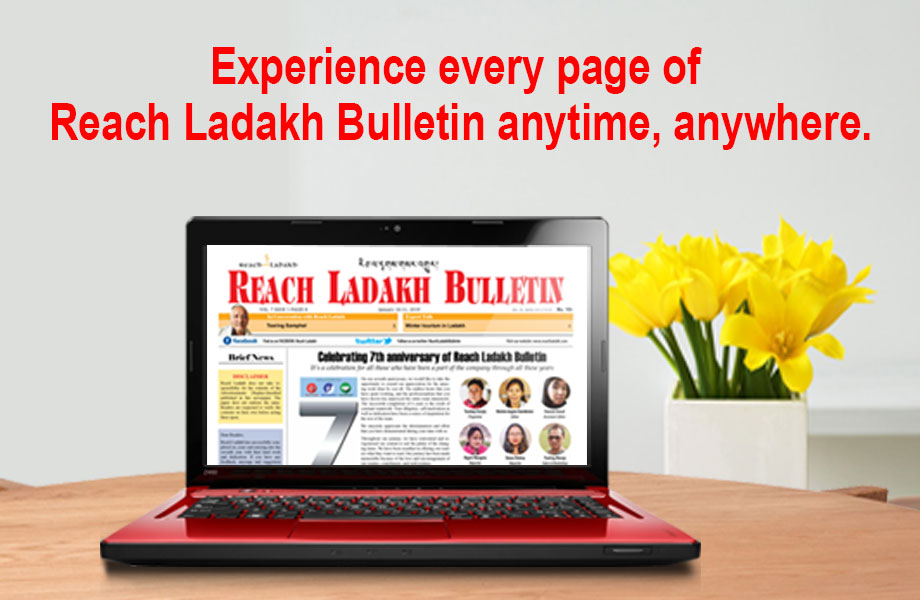 PHYANG :
To cater the experience of rural lifestyle and farm fresh foods in Ladakh, a traditional farm stay was launched by His Holiness Skyabgon Chetsang Rinpoche on June 18 in Phyang. It is promoted by Ice Stupa Project in collaboration between SECMOL, Phyang monastery, people of Phyang and Phey villages.
The aim was to attract discerning tourists to experience authentic Ladakhi village life beyond the city life and to bring back life to the villages. This will also provide an opportunity to all the visitors to participate in the field work along with the villagers.
At present, there are seven families from Phyang and five families from Phey who adopted the farm stay model.
His Holiness Chetsang Rinpoche said, "Nowadays tourist are more attracted towards rural areas to explore the real lifestyle and it is the right time to adopt farm stay model to enhance the economic status in the villages. To develop sustainable project economically in Ladakh we need to revive and develop the agricultural practice."
Talking about the increasing number of cancer patients in Ladakh His Holiness said one of the reasons behind this is the unhealthy food. Food will be healthier if we try to produce it our own way thus stressing on the practice of organic farming.
Sonam Wangchuk, Advisor Secmol said that the idea has been first started with the Ice stupa project to solve the water crisis faced in some parts of the village with the consent expressed by His Holiness. Other than water crisis many fields are left uncultivated because of urbanisation for better jobs, income and education purpose leaving behind the elderly people of the family who can barely work on the fields. In order to revive the rural economy by adopting various other farming means to make some income out of it.
He said, "Prototyping of the project was already done last summer by training some mothers to maintain a high standard and excellent hospitality towards the guest. Once this model is successful it can be replicated to all other villages by Hill Council through tourism department."
He further added that the next project is to revive the ancient architectures of Ladakh.
Chief Executive Councillor, Dr. Sonam Dawa appreciated the innovative concept and project to revive the village life. He said such ideas and concepts are very important to make better Ladakh and assured all support for such new inventive ideas.
To make it successful the families of Phyang resolved to adopt the concept of organic farming, to use farm products as much as they can, to work with cooperation and to charge reasonable to the clients.
His Eminence Rigyal Rinpoche, EC Tourism, Tsering Sangdup and Dr. Zahida Bano, CEO of the Leh Development Authority were also present.