Seminar held on 'The Future of Leh old Town'
By
Padma Angmo
Leh, Jul 09, 2015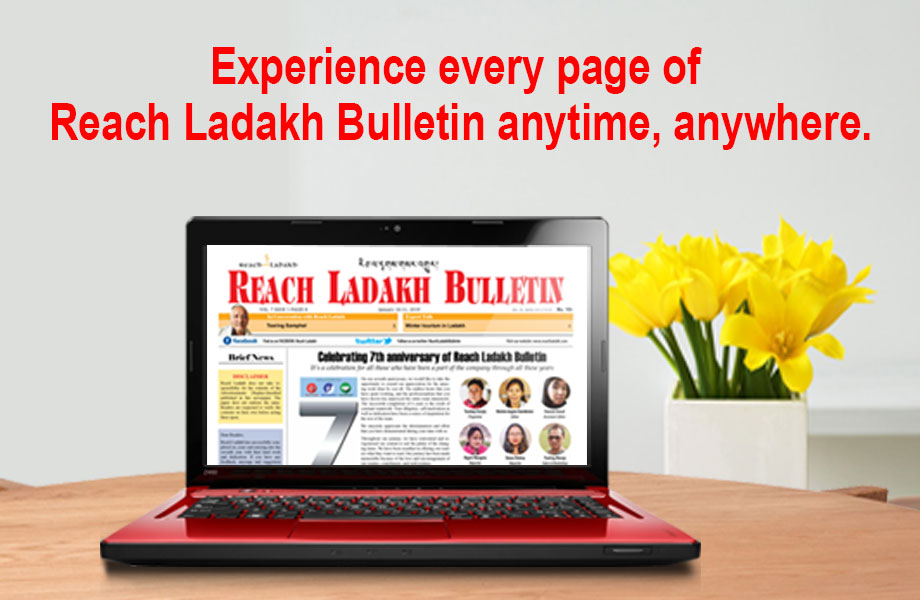 Leh :
For the preservation of Leh old buildings, Leh Old Town Initiative (LOTI) organized a seminar on "The Future of Leh old Town" on 23 June at open courtyard- Chamra, under the Leh Palace.
Many speakers discussed that our ancestor engineered the buildings in such a way that it can stand for centuries and in Leh Town some old houses are still erected and unaffected by the physical factor. These are the witnesses how our ancient engineers were skillful and creative. To see these architect buildings and its design people come from all over the world.
Now a day's people are destroying the historic buildings and replacing new modernized buildings to earn money for their own benefit without even considering the ancient values that these houses hold.
His Eminence, Thuksey Rinpoche was the chief guest of the occasion and other guest speakers included Padma Shree. Morup Namgyal, Dr. Mohd Din, President, Ladakh Environment and Health Organization, Khanpo Konchok Phanday, Scholar cum writer and Yuyaka Hirako, LOTI Director were also present.
His Eminence, Thuksey Rinpoche said that the people of Ladakh must preserve rich cultural and traditional customs such as the ancient architecture and its pattern to decorate the home whether it is external or internal.
Khanpo Konchok Phanday said that the design and engineering of Ancient Traditional Old houses are gradually disappearing that used to be one of the preferred places for visitors and the newly architect buildings are design in the modern way.
Due to extreme modernity, we are losing tourists in Leh as they do not like to be in advanced developed city because they have better advancement than modern Leh. From this, we can take a lesson how our cultural and traditional origins are rich and beneficial which are provided by our ancient Ladakh builders.
Padma Shree, Morup Namgyal stressed on the restoration of old Ladakhi buildings and to preserve the method of the architecture of an old Ladakhi Engineers. Without using cement, these buildings still exists today as we can see our fascinating Leh Palace from centuries which is one of the exemplary palace built by our great king, Tashi Namgyal. Morup Namgial also stressed the importance for historic restoration.
Dr. Mohammad Din shared his childhood memories, about his family, designing of houses in old days of Ladakh, relation between the people and also about inner peace and contentment. He said that there is a big difference in qualities and skills of his childhood Ladakhi people and the 21st-century people.
Yutaka Hirako said that LOTI was first established in 2003 by initiative from some Ladakhi youth and Japanese volunteers for the preservation and maintenance of Leh Old Town Buildings. He also said that the LOTI is working since last twelve years as an NGO.
"The old town of Leh is one of the last remaining historic dwellings in Himalaya and moreover it is an important heritage of the glorious history of Ladakh. Through centuries, leading families of Ladakh have built their houses around Leh Palace and created memories of the town. Today, the historic houses are rapidly disappearing due to neglect and fast development," he said.
The vote of thanks was presented by Anchor Stanzin Wangmo.