Secretary Rural Development Department meets BDC Chairperson of Leh
By
Reach Ladakh Correspondent
Leh, Sep 02, 2020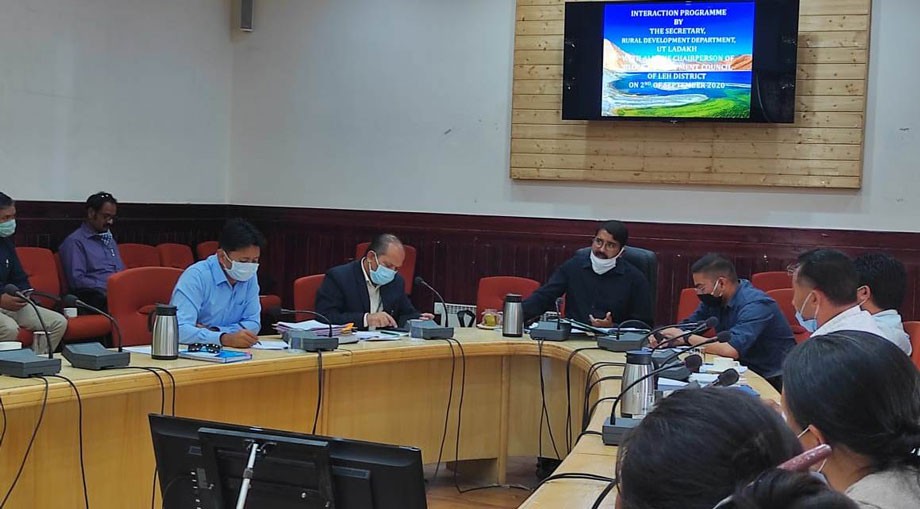 Leh :
Secretary, Rural Development Department, UT Ladakh, Saugat Biswas chaired an interactive programme held with the chairpersons of the Block Development Councils of Leh district on September 2.
Deputy Commissioner, Leh, Sachin Kumar Vaishya; Chairpersons of 16 Block Development Councils of Leh district; Director, RDD, Ladakh, Tahir Hussain; Assistant Commissioner Development, Leh, Sonam Chosjor; Dy. Director (Planning), Tsering Angdus; Executive Engineer, REW, Leh, Skalzang Dorjay, and all the BDOs of RDD of Leh district were present in the meeting.
Sonam Chosjor briefed about the updated work-done report in various blocks and agendas such as the timely release of payment of 14th Finance Commission, progress of e-tendering, enhancement of honorarium of the BDC Chairpersons, Construction of BDC office, by-election, and appointment of BDOs.
The meeting deliberated on various issues of the chairpersons who raised the issues of their concern regarding, telecom and internet connectivity, electricity, drinking water, Back to Village scheme, staff requirements among others.
Responding to the issues raised by BDC Chairpersons regarding the change in plans as compared to their data collection from the grass-roots level, Saugat Biswas explained in detail the planning process in the UT. He urged the BDC's to create a repository of schemes that need to be implemented in their blocks in the future. 
BDO's were asked to establish temporary offices for BDC's Chairperson in a week and urged to get Gram Sabha conducted timely in coordination with the Sarpanches. It was also suggested to conduct monthly meetings with Sarpanches by involving all the concerned officers and officials to keep a check on work-done and action-taken reports be generated.
The issues of mining fees, e-tendering, telephone connectivity, Back to the village, by-election, and BDC Fund were also discussed in detail and separate instructions were passed for further deliberations.