Review meeting of bankable projects/subsidy schemes of Agriculture/ Horticulture, Animal & Sheep Husbandry department held
By
Reach Ladakh Correspondent
Leh, Nov 18, 2022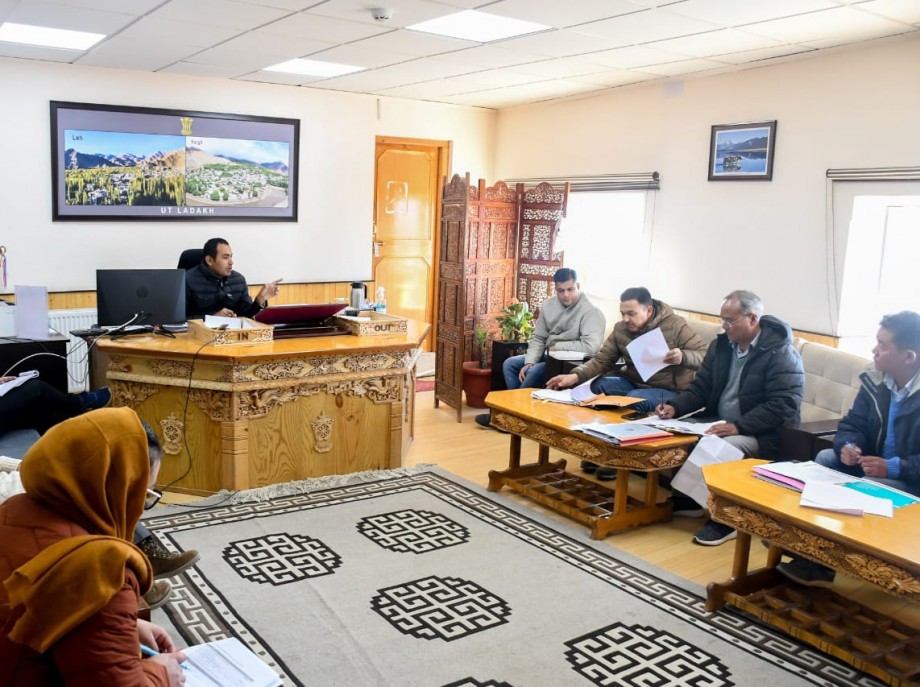 Leh :
Administrative Secretary, Agriculture/Horticulture/ Animal & Sheep Husbandry and Fisheries Department, Ravinder Kumar reviewed the progress of all bankable projects/subsidy schemes of the Agriculture/ Horticulture, Animal & Sheep Husbandry Departments at the Civil Secretariat, Leh on November 17.
Administrative Secretary Ravinder Kumar impressed upon the officials to publicize the various bankable projects and schemes on a fast-track basis. 
Ladakh administration has launched various schemes for farmers to promote the farming sector and improve their livelihood and economic conditions. A large number of farmer beneficial schemes including National Agricultural Market (NAM), Pradhan Mantri Krishi Sinchayee Yojana (PMKSY), Paramparagat Krishi Vikas Yojana (PKVY), Interest Subvention scheme, and Pradhan Mantri Fasal Bima Yojana (PMFBY) have been introduced in the UT.
The bankable projects of the Agriculture and Horticulture departments are also aimed to develop the economic condition of entrepreneurs, to boost and help them to introduce various schemes. 
Director Horticulture, Mohd. Yusuf Dar apprised the meeting that the horticulture department provides 75 percent subsidy to farmers for area expansion, cultivation, and production of sea buckthorn. This immunity-boosting berry is getting increasingly popularised not only in India for its medicinal value but is also in great demand abroad. 
The meeting was attended by Director, Animal/Sheep Husbandry & Fisheries; Director Horticulture Department; Deputy Secretary, UT Ladakh; Chief Animal Husbandry Officer, Leh/Kargil; District Sheep Husbandry Officer, Leh/Kargil, and Chief Agriculture Officer, Leh/Kargil.