Principal Secretary reviews implementation of Aadhaar-linked Birth Registration in Ladakh
By
Reach Ladakh Correspondent
Leh, Nov 23, 2022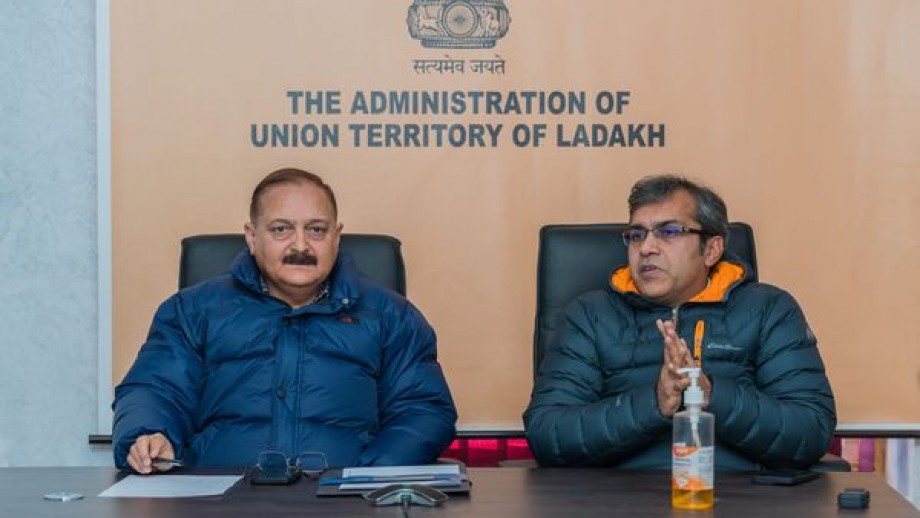 Leh :
Principal Secretary, Health and Medical Education, Dr. Pawan Kotwal chaired a meeting with Principal Secretary, Information Technology, Sanjeev Khirwar on November 22 and discussed issues faced during the implementation of the Child Registration System and Aadhaar Linked Birth Registration (ALBR) in Ladakh at the Civil Secretariat, Leh. 
In the meeting, detailed discussions took place on various issues, viz. ALBR through Civil Registration System (CRS); Empanelment of Health & Medical Education Department as Registrar under Unique Identification Authority of India; Empanelment of Director Health Services as Enrolment Agency under Registrar, etc.
The Principal Secretary, Dr. Pawan Kotwal impressed upon the officials present to ensure that no child in Ladakh is left without being registered. Further, he stressed that within 10-15 days of birth the ALBR procedure should be completed. 
The Principal Secretary, Information and Technology, Sanjeev Khirwar, impressed upon the concerned officials to ensure that the process is seamless and friendly for the parents and the babies. He said that once BRN is issued, the Aadhaar linking and Birth Registration is a subsequent process.
ALBR is a system in which Aadhaar enrolment is performed at the time of birth which further links to Birth Registration. Enrolment is done through a tablet and only a proof of relationship document is required to enroll the child. Every newborn will be covered for Aadhaar enrolment. The key benefit that an Infant receives is its own very first unique identity. Tracking of service deliveries to children like immunization, ICDS, school education, and other social welfare services also becomes easier. 
The meeting was attended by Dr. Motup Dorjey, Director Health Services; Director Census, J&K; Sanjeev Mahajan, Director UIDAI RO, Chandigarh; Manmeet Singh, Assistant Director, CRS, and officials from UIDAI and Municipal Corporation.