People of Ladakh rally for the long-pending demand of UT status
By
Stanzin Dasal
LEH, Apr 21, 2017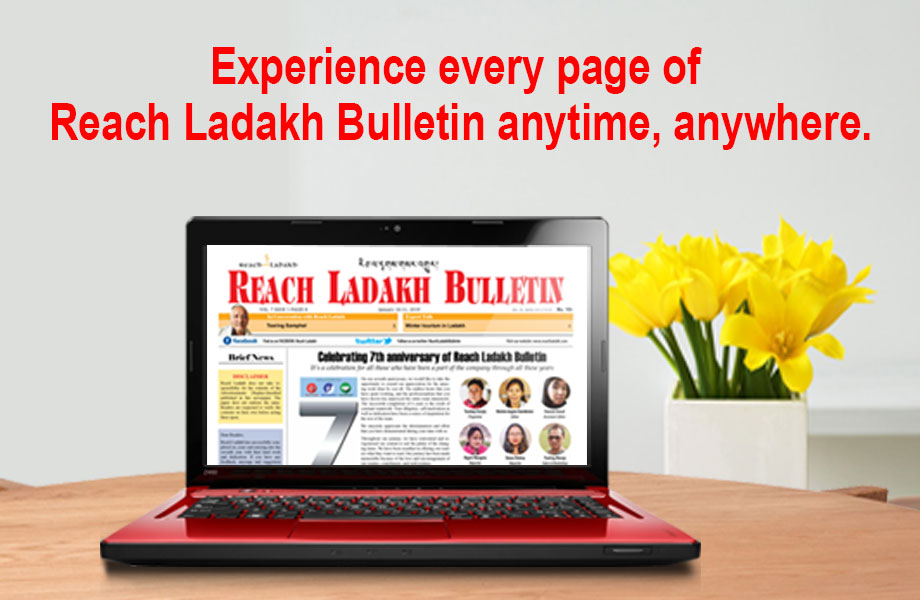 LEH :
Condemning the negative attitude of the Kashmir Government, a massive protest rally was carried out with one voice for the demand of UT status to the region on April 8 in Leh. The rally was organized by Ladakh Buddhist Association and was participated by people from Sham, Changthang, Nubra, Zanskar and Leh.
The rally was preceded from Chowkhang Vihara and culminated at Polo Ground Leh. Along with the core UT status demand issues of reservation in promotion, regularization of contractual employees of PDD, Police, PWD and many other departments, discrimination and unjust recruitment policy of the government, favoritism and partiality in distribution of state land, unjustified introduction of Food security bill in the district, religious community based appointments of Patwari's, negative impact on education, tourism and developmental activities due to incessant disturbance in Kashmir valley and many other issues were highlighted.
Addressing the large gathering, Tsewang Thinles LBA President strongly asserted the importance and the need of reiterating the long pending demand of UT status. He said that the demand is not new, it was a demand since a long time to safeguard our own cultural identity and to run Ladakh's own affairs.
Ladakh being strategically important region and its resistance towards Kashmiri sub-nationalism, he said, "Every decision related to Ladakh has to be taken by taking the people of the region into confidence".
Talking about the creation of two districts of Ladakh namely Leh and Kargil in 1979 by Kashmir Government, Tsewang Thinles added that the division policy was made on the communal basis to challenge the unity, communal harmony, and secularism. Thus, Leh district unitedly demands for an administration in Ladakh to be controlled directly by the Central Government. He alleged that the Kargil leaders have failed to live up with people expectation practically.
He further said, "We have gathered and raised our voice as leaders of Kashmir valley can never be leaders of our people. The opposite treatment in every field and the unequal treatment have left the people of the region in suffering."
LBA Vice President, PT Kunzang said that the growing injustice and discrimination by the Kashmir Government in every field has compelled people of Ladakh to step on the streets and raise voice for their rights and identity.
"If our demand is not considered we will intensify the protest in the future also", he added.
For the well-being of small Buddhist community settled in Kargil district, Tsewang Thinles mentioned about the Government policy to develop a tourism development in Rangdum.
He said, "It is just a mere policy to capture the lands owned by the people and to push them out of their own land. We don't need your development and policy and we will not let such negative plans to accomplish in future".
LBA President disclosed and alleged the name of some people who are involved in making plans to create problem and disharmony in the district. Informing the concerned department, he said, "An inquiry and action is needed to such people before any problems or issues are created."
He gave a strong ultimatum to the people who are trying to create communal disharmony and misunderstanding among the people of the region. "We will not tolerate such anti-social plan in our society", he added.
He further appealed all the people of Ladakh, following different religion and faith to live in peace to maintain the love, respect, and harmony among each other.
An allegation was charged on DC, Leh for not honoring the Council and undermining it and also on the police department who fails to make any progress on Gya Meru Poaching case.
Responding to the media on the allegation charged by the LBA, DC Prasanna Ramaswamy G said, "The relation of DC and Council is very good and only Council is competent to comment on it. I don't feel that I should be compelled to speak on any allegation against me."
Strongly making his point on no progress report and status on Gya Meru poaching case, PT Kunzang said, "More than 4 months has passed since the incident happened and despite having Special Investigation Team no progress of the case has been seen."
He alleged that the concerned department has failed to take any kind of action and doubted that they are involved in covering up the crime.
He further appealed for an immediate arrest of the culprit and take strict action against such people who are roaming with guns and killing the wild animals in a broad day light.
Konchok Stak, Vice President, LBA Youth Wing and Angmo, the General Secretary LBA Women wing also spoke on the occasion.
A memorandum was submitted to the Prime Minister Narendra Modi which reads, "It is absolutely erroneous to equate Kashmir valley with the rest of the state. Ladakh constitutes 69.6% of the total J&K territory with a distinct geo-political and geo-cultural identity of its own. The aspirations of the people of Ladakh and their national outlook are different from those of the people of Kashmir. Leaders of Kashmir valley can never be leaders of our people and our assimilation with the people of the valley is next to impossible. The need of the hour is, therefore, to tackle all the problems relating to Jammu, Kashmir and Ladakh in totality. Any attempt at handling the Kashmir issue in isolation by ignoring the problems of Ladakh will not only be short-sighted but also counterproductive. We strongly feel that the Union Territory with an elected legislature is the only instrument through which the present political ambivalence can be ended and by which we can achieve our aspirations. We place trust in your sagacity and are optimistic that under your dynamic leadership, farsightedness and your famous slogan of "Sabka saath- sabka vikas" we are optimistic that our genuine demand will certainly get a positive attention countering all the successive government in Delhi in the past who have been dilly dallying us with false promises. We are committed to continuing our struggle for our honour and dignity and for achieving the aspirations of our people."