Pashmina products receive Bureau of Indian standards certification
By
Stanzin Dasal
Leh, Aug 05, 2019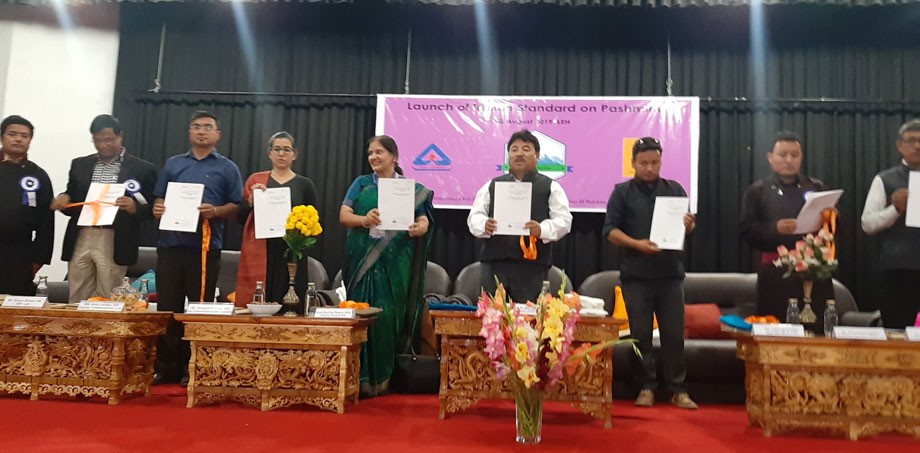 Leh :
Indian Standard for identification, marking and labeling of Pashmina products to certify its purity was released on August 3 at Nagarjuna Auditorium, CIBS, Choglamsar.
The initiative was carried out by the Bureau of India Standards (BIS) in collaboration with LAHDC, Leh.
The objective of Pashmina certification is to promote the genuine Pashmina produced in Ladakh and curbing the malpractices in the market. The standardization will boost the economic status of the Pashmina growers and local artisans who were unable to get the actual prices. Also, it will further interest the young generation to continue the profession thus preserving the age-old culture and heritage.
Surina Rajan, Director General BIS, Dr. A K Sahoo, Director, Central Sheep, and Wool Research Institute, Executive Councilors, district officers, delegates from handloom weavers, co-operative societies, Pashmina artisans, manufacturers, traders and academic institutes along with a number of BIS officials were present.  
Gyal P Wangyal, chief guest said, "Pashmina is one of the most important resources of economic potential for Ladakh region. Presently, the substandard products are mislabeled and sold as genuine Pashmina in the market. The certification of Pashmina products by the Bureau of Indian Standards will discourage the malpractices in the market thus, ensuring pure and genuine product to the customers".
"Bureau of Indian standards will be establishing a Pashmina testing centre in Ladakh with all the needed facilities where the products will be tested and marked. This will benefit the nomads and local artisan to get good prices", he added.
Avny Lavasa, Deputy Commissioner, Leh said that 2400 nomadic families of Changthang are solely dependent on Pashmina for their livelihood. The certification of the product will further, enhance the market thus curbing the practice of adulteration of pashmina products.
She said, "The steps taken for identification, marking and labeling of Pashmina products will ensure better prices to the local pashmina growers and artisans who were suffering till now due to marketing malpractices".
She further appreciated BIS for the effort and initiative which requires expertise and unique research and development.
Surina Rajan, Director General, Bureau of Indian Standards said that Pashmina is considered rare fiber specially the one obtained from the goats of High altitude region of Changthang area.  The Pashmina of Ladakh is the world's finest fiber measuring between 12-15 microns in fiber thickness.
"The standards on Pashmina will not only protect the interest of consumers but the local growers and artisans. The initiative will definitely boost the economic status of everyone, she said.
Dr A K Sahoo, Director Central Sheep and Wool Research Institute, Dr. R K Bajaj, Deputy Director-General, Standardization BIS, Konchok Stanzin, EC, Animal and Sheep Husbandry also spoke on the occasion.