Orientation programme for Haj pilgrims of Leh district held
By
Reach Ladakh Correspondent
Leh, May 08, 2023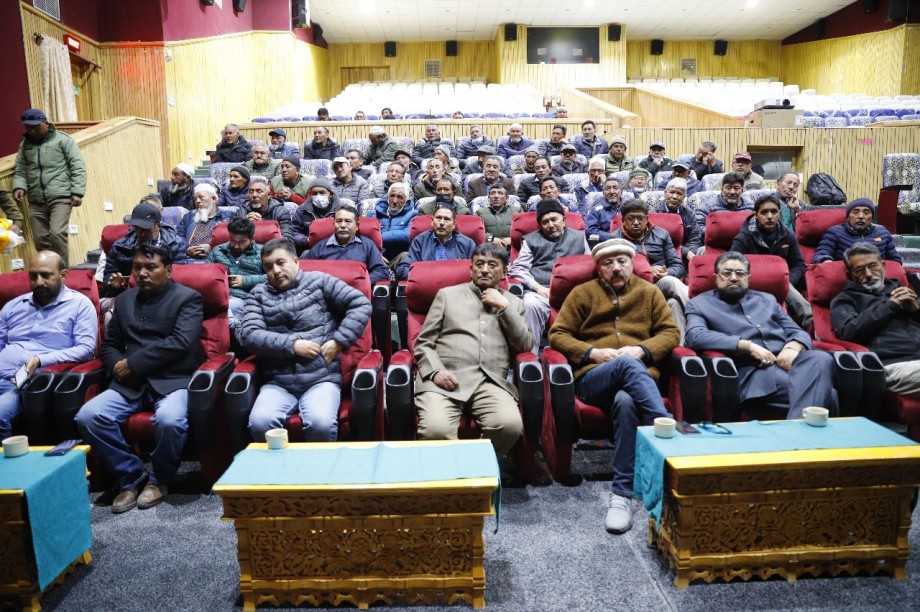 Leh :
Haj Committee UT Ladakh orgainsed an orientation/training programme for the provisionally selected Haj pilgrims for the year 2023 from Leh district at Sindhu Sanskriti Kendra Leh on May 8.
Member of Parliament, Ladakh, Jamyang Tsering Namgyal was present as a chief guest.
It was informed that a total of 475 Haj applications were filed from UT Ladakh for Haj Pilgrimage 2023 and in a historic achievement, all the 475 applications were approved by the Ministry of Minority Affairs which is the nodal ministry to conduct Haj pilgrimage in India.
Addressing the gathering, MP JTN congratulated the Haj pilgrims for receiving the opportunity to achieve one of the five tenets of Islam. He expressed his gratitude to the Prime Minister for the formulation of the UT Ladakh Haj Committee as per the wishes and aspirations of the Muslim brethren of Ladakh. He lauded the efforts of the Haj Committee Ladakh headed by President Mohd Ali Majaz for facilitating the entire Haj Pilgrimage process along with organising a special Passport Seva camp in Kargil to ease the passport services and also the orientation programme.
He added that the central government's approval of all the 475 Haj applicants from Ladakh is a remarkable achievement for the newly formed Haj Committee of UT Ladakh and assured that the Haj Committee would strive harder for serving the Muslim communities of the region.
Executive Councillor, Minority Affairs, Ghulam Mehdi expressed best wishes to the Haj pilgrims and commended the hard work and dedication of the Haj Committee UT Ladakh in streamlining and facilitating the Haj pilgrimage processes. He appreciated the Committee's decision to provide training to the Haj pilgrims from Nubra in the sub-division itself.
The resource persons for the orientation/training programme were Iftikhar Ahmed and Mohd Ali. They briefed the Haj pilgrims on a broad range of topics, including vaccination, covid protocol, required medical documents, accommodation, touring, transportation and communication facilities, foreign currency exchange along with disaster management measures. The training programme also focused in detail on the various religious rituals to be observed while undertaking the pilgrimage at different and important religious sites.
President, Haj Committee, UT Ladakh, Mohd Ali Majaz, and its members Councillor Mirza Hussain and Nazir Ahmed also shared their thoughts during the event which focused on the work of the Haj Committee, the challenges it faced and the assurance to resolve the issues in the future and to take forward the experiences learned in this year's Haj Pilgrimage process.
Ulemas and religious heads of different sects, Presidents of religious organisations and Presidents (Women wing) of religious organisations along with the provisionally selected Haj pilgrims from different parts of Leh were present during the orientation programme.