MP Ladakh discusses individual beneficiary-oriented schemes under DISHA
Decides to organise 'Seva for Sangha' camp during Ladakh Monlam Chenmo
By
Reach Ladakh Correspondent
Leh, May 03, 2023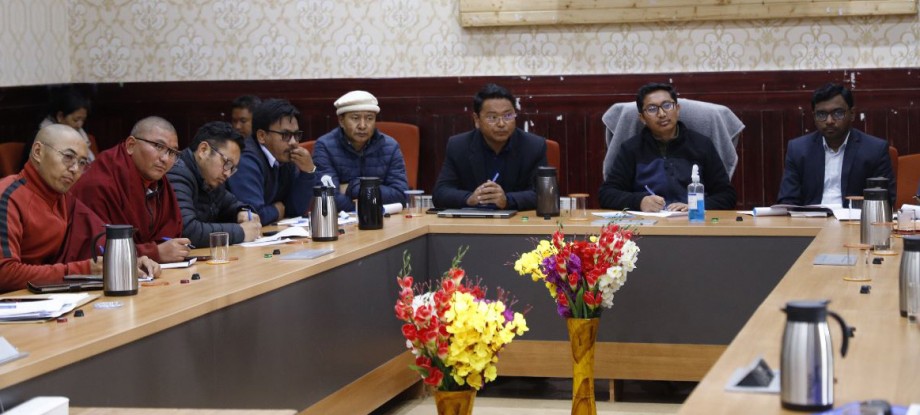 Leh :
MP, Ladakh, Jamyang Tsering Namgyal chaired the District Development Coordination and Monitoring Committee (DDCMC) 'DISHA' meeting with the concerned officers/officials on May 3  and discussed individual beneficiary-oriented schemes in Leh district, especially focusing on the members of the Sangha community.
Addressing the meeting, MP Ladakh shared that the monks and nuns of the Sangha community form a major part of the society, and living a monastic life they remain aloof from availing the benefits of various government schemes. He informed that the upcoming Ladakh Monlam Chemo scheduled to be held from May 11-15 in Leh, where members of the Sangha community from different parts of Leh and Kargil districts would congregate in large numbers, is an opportunity for the govt to promote the schemes through its various implementing agencies and departments in a collaborative manner.
 The meeting deliberated on the various types of schemes which could be promoted and benefited during the Monlam Chenmo to ensure that the benefits are reached to the intended individual beneficiaries from the Sangha community at one platform by organising 'Seva for Sangha' camp. It also discussed the procedures, mechanisms, and required documents to avail of the benefits.
 Apart from various departmentally implemented schemes to be promoted, MP Ladakh urged ITBP and Lead District Bank Manager, Leh to provide their services during the said period by installing stalls.
He also instructed Principal CIBS to appoint teachers for assisting the departmental officers/officials and the monks and nuns in availing benefits of the schemes and the smooth functioning of the camp.
It was decided that Old Age Pension Scheme, Disability Pension Scheme, Women in Distress (state-sponsored scheme), Ayushman Bharat Golden Car, Ayushman Bharat Digital Mission (Health ID), Food Grain Subsidy (Ration Card), PM Suraksha Bima Yojana, PM Jan Dhan Yojana, PM Jeevan Jyoti Bima Yojana, Atal Pension Yojana, Health camp and Health Counselling for Monks & Nuns for separately and other relevant schemes. The concerned departments and executing agencies would be promoted during the Ladakh Monlam Chenmo event which would also ensure that intended beneficiaries are covered under the schemes.
 Deputy Chairman, LAHDC Leh, Tsering Angchuk; Executive Councillors, Tashi Namgyal Yakzee, Ghulam Mehdi, Stanzin Chosphel; Deputy Commissioner, Leh, Shrikant Suse; Nominated Councillor, Shangha Community, Konchok Tsephel; Councillor, LAHDC Kargil, Stanzin Lakpa; Additional District Development Commissioner, Leh, Sonam Nurboo; Chief Planning Officer, Leh, Tsewang Gyaltson; Chief Agriculture Officer, Leh, Thinles Dawa; Chief Education Officer, Leh, SD Namgial; Chief Medical Officer, Leh, Dr. Nurzin Angmo; Superintending Engineer, PDD, Tundup Spalzang; Assistant Director, FCS&CA, Ruth Mary; District Social Welfare Officer, Leh,  Nilza Angmo; Principal CIBS, Dr. I B Jha; Xen Projects, PDD, Rinchen Wangmo; LDM SBI, Tsering Wangmo; President, All Ladakh Gompa Association, Ven, Acharya Stanzin Wangtak; Social Worker, Dr Nordan Otzer and representatives from ITBP attended the meeting.