Month-long Bhoti language program concludes in Zanskar
By
Reach Ladakh Correspondent
Zanskar, May 01, 2023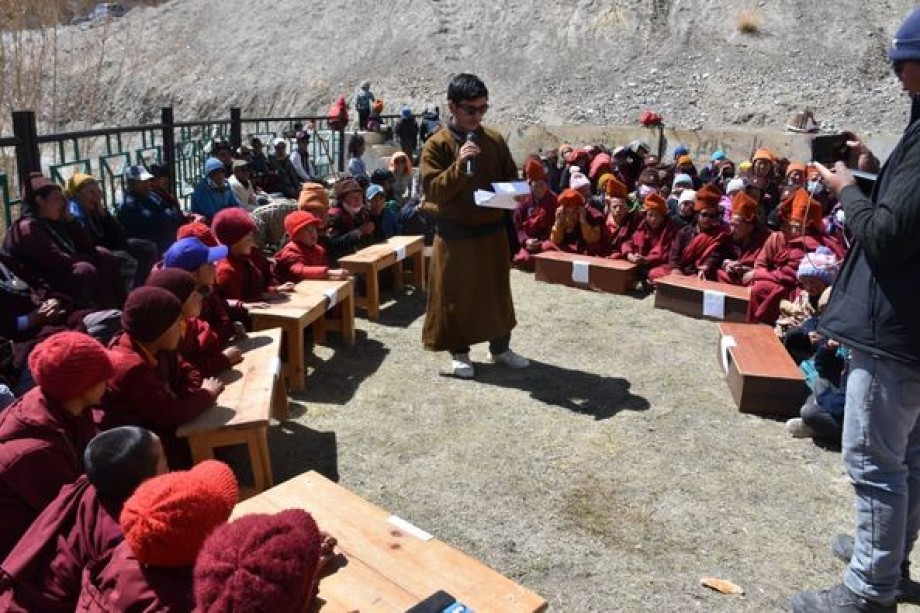 Zanskar :
Month-long Bhoti language program organised by Changchhub Chhoeling Nunnery Zangla in association with Zangla village concluded on April 29 at Zangla, Zanskar.
Executive Councilor Tourism, RD and Zanskar Affairs, Er Punchok Tashi was the chief guest while Subdivision Agriculture Officer Zanskar, Tsering Nurboo was the guest of honour on the occasion.
Govt. High School Karsha, Govt. High School Zangla, Duzin Photang High School, and seven Gonpa and Nunnery Schools of subdivision Zanskar participated in the program.
Speaking on the occasion, EC highlighted the importance of Bhoti language and stressed preserving and promoting its rich culture. He also mentioned that Bhoti language is an old language and is also used in medicine, astrology, astronomy, etc.
EC Tashi also congratulated the Changchhub Chhoeling Nunnery for winning of Wipro Earthian Award. He appreciated K S Dewena for her voluntary hard work in the field of environment and cultural preservation in Zanskar for the last five years. 
The EC also distributed portable amplifiers to Nunnery School and High School Zangla. He also assured to provide one portable amplifier to Youth Association Zangla.
President Zanskar Choskul Tsogspa Gyan Mingyur Dorjay informed that seven posts of Bhoti teachers are available in Zanskar and only three posts are filled presently. He requested the EC to fill up all vacant posts and create new ones.
The participants also presented cultural programs and skits. Quiz competitions were also held between school students and local women groups of Zangla village. In the end, prizes and certificates were also distributed by the guests among the participants and position holders.