MIMC honours COIVD-19 frontline warriors
By
Reach Ladakh Correspondent
Choglamsar, Jul 16, 2020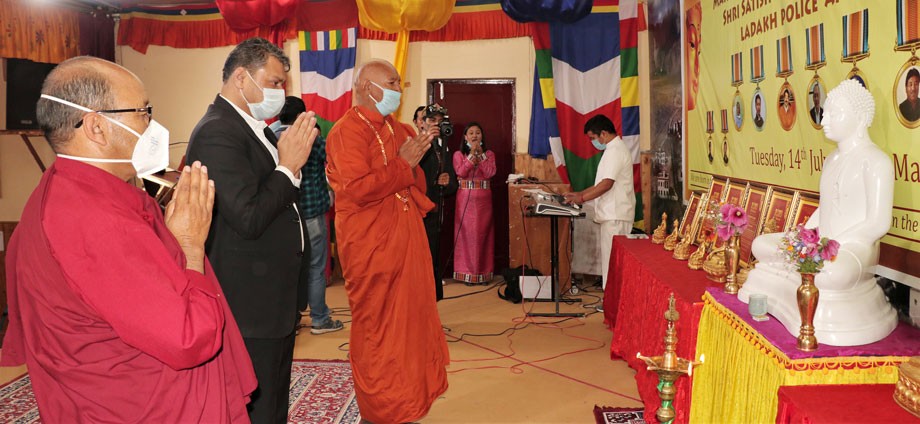 Choglamsar :
Mahabodhi International Meditation Centre (MIMC) honoured  COVID-19 warriors on July 15 for their selfless and hard-work rendered during the testing time of the pandemic.
Founder and Spiritual Director MIMC, Ven. Bhikkhu Sanghasena also honoured Inspector General of Police, Ladakh, Satish Khandare for the formation of Ladakh Police. He was conferred with Lifetime Achievement Award for his years of loyal and dedication in service of the nation and also for his personal contribution to the formation of the Ladakh Police.
Medical, Police, Information and Public relations departments, media fraternities, and other organisations & individuals were also honoured with citations and cheques.
Satish Khandare appreciated MIMC for dedicating Mahakaruna Charitable Hospital as COVID Hospital. He further appreciated the long journey of MIMC in nurturing and taking care of the economically poor and emotionally weaker section of the society.
''I assure people that Ladakh Police will strive to live up to the expectations of its people with an effort to emerge as the people friendly force by working hard to extend a helping hand to the people in need", added Khandare.
Ven Bhikkhu Sanghasena congratulated people of Ladakh for the formation of Ladakh Police, expressed gratitude to the medical fraternity for their selfless attitude, the police, media, and other organizations and individuals for their share of contributions during the darkest hours of COVID pandemic.
He further stressed on promoting compassion, love, and brotherhood for overcoming the pandemic and for the world peace. He reassured that MIMC will stand ready for all help and cooperation to fight against the deadly virus.
Also, in recognition of the huge contributions made towards the well-being of the people of Ladakh in their own ways, Hill Council, Leh; UT administration; Medical Superintendent, SNM Hospital, Leh, Dr. Tsering Samphel; Department of Information & Public Relations, Leh; Doordarshan Kendra, Leh; All India Radio, Leh; Press Club, Leh; Live to Rescue Centre (for their contribution towards voiceless animals during the lockdown); two dedicated staff of MIMC and the two nurses of the Health Department Leh received Mahakaruna Award.
MIMC donated ₹1 lakh in CEC COVID Relief Fund, ₹ 2lakh  to the health care unit of Ladakh, ₹ 1 lakh each to Press Club, Leh and Live to Rescue.  Also, PPE kits & COVID relief materials worth ₹ 2 Lakh for the police force were donated.