Mental health issues a growing concern in Leh
From July 2020, nearly 150 cases registered in mental health OPD, SNM Hospital
By
Stanzin Dasal
Leh, Aug 17, 2020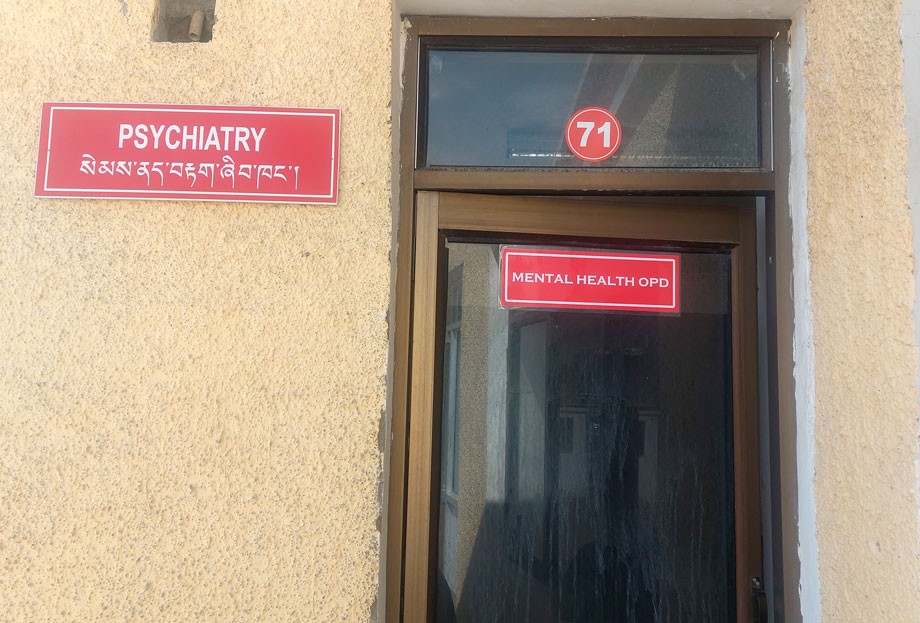 Leh :
Around 300 new cases of mental health problems ranging from severe mental disorders like Schizophrenia, bipolar disorder, to common mental disorders like depression to anxiety disorder, and substance abuse registered at SNM hospital in five months (data of 2018). 
On July 13, 2020, a mental health OPD was formally launched by the Lieutenant Governor R K Mathur at SNM hospital. Though the OPD was in existence since 2018 due to some reasons it was not fully functional.  Aiming to provide help and support to the people who have mental health issues, the OPD has given a ray of positive hopes to many who seek help and attention. 
After the launch of OPD, near around 150 mental health cases (including both the new and follow up cases) was registered.  
Dr. Padma Angmo, (MD Psychiatry) Psychiatrist and State nodal officer , national mental health program UT Ladakh, who worked in Delhi prior joining to SNM hospital said, "When I first started to work in Ladakh I assumed that there won't be much of the cases but surprisingly the prevalence  and pattern seemed similar to Delhi. Compared to the sparse population of the region the number of cases reported is quite high."
Also, this year because of the COVID-19 pandemic, many people are experiencing mental health issue. Economy loss is becoming a rising concern during this pandemic as many in the region are depended on seasonal earning, hefty loan from banks, fear of losing jobs, uncertainty and many more are directly related to the mental health problem.
Mental health problems, including depression, drug addiction, and suicides are becoming a growing concern in the Ladakh region.According to the research paper compiled by Dr. Padma Angmo and Dr. Mohd. Iqbal , DHO published in the International Journal of Scientific Research in the year 2018, a total of 310 new patients registered in the Psychiatry OPD in a period of five months from March to July 2018. Comparing the number of cases reported, depression and anxiety are slightly more common among the female. From 8 years to 82 years old, patients of all age groups are seeking mental health care attention.  69.35% of the patients were in the age group of 20-59 yrs. While 56.5% of patients were married, 38.4 % of patients were unmarried and a small percent of the patients were separated or divorced or widowed.
Dr. Padma Angmo stated that more ground work or study is needed to be precise because so far all the figures and assumptions are based on the number of cases reporting to the hospital. No community based ground study or research has been done regarding the prevalence of the problem in society.
Talking about the reason behind the rising mental health issue she said, "Stress is the biggest factor leading to depression and many other issues.  Growing competition and pressure to stand out, earn more, etc. affects mental health".
Not just stress leads to depression many other factors also contribute to the issue.
 "High altitude could raise the risk of depression, suicide cases. Studies have been carried out in High altitude areas of America where they found that the rate of suicide cases is more as compared to the areas of lower altitude.  It is believed that lack of oxygen at high altitudes, could be interfering with people's mental health. We still have to study further according to the pattern for further detail", she added.
Many of the mental health cases go unreported in the region reason being less awareness, ignorance, and stigmatization.  It was found that even educated people tend to ignore or feel insecure to talk about it openly. There is a need for more awareness among the people about the mental health issue as it can affect anyone. 
Stigmatization is a major concern because many people see mental health issues as something to be embarrassed or ashamed of.  Many consider people suffering from mental health issue as abnormal, violent, and weak. Thus, many steps back to support and help them. 
The growing concern and alarming issue in Ladakh is substance abuse among school-going children and youths. 
Addiction to cannabis and volatile substances and inhalants is rampant in society. Many believe that all those habits and exposure is because of the changing lifestyle and negative impact of the tourism industry. Dr. Padma stressed the need of understanding the root cause of youths getting addicted to such habits and how such things are made available.
"Substance abuse is badly prevalent not just limited to alcohol or tobacco but drugs like opioids have also creeped in our society", she added. 
One of the major challenges faced at present in the hospital is the absence of a separate ward or facilities to admit people who have suicidal tendencies or suffering from severe mental health issues. So far, the hospital is somehow managing with space but the Psychiatrist of SNM hospital expressed the need for separate facilities in the coming days.
In the year 1982, The Government of India has launched the National Mental Health Programme (NMHP). The aim is to ensure the availability and accessibility of minimum mental healthcare for all in the foreseeable future, particularly to the most vulnerable and underprivileged sections of the population, to encourage the application of mental health knowledge in general healthcare and in social development; and to promote community participation in the mental health service development and to stimulate efforts towards self-help in the community. 
The programme has been successfully implemented in all parts of the country but needs to be further strengthened in Ladakh region. 
Helpline service
Mental health helpline service has also been started where people can seek consultation through phone on Tuesday, Thursday and Saturday between 10 am to 2 pm on the number 252334