Meeting on the regulation of Minor mines and minerals in Leh held
By
Reach Ladakh Correspondent
Leh, Nov 21, 2022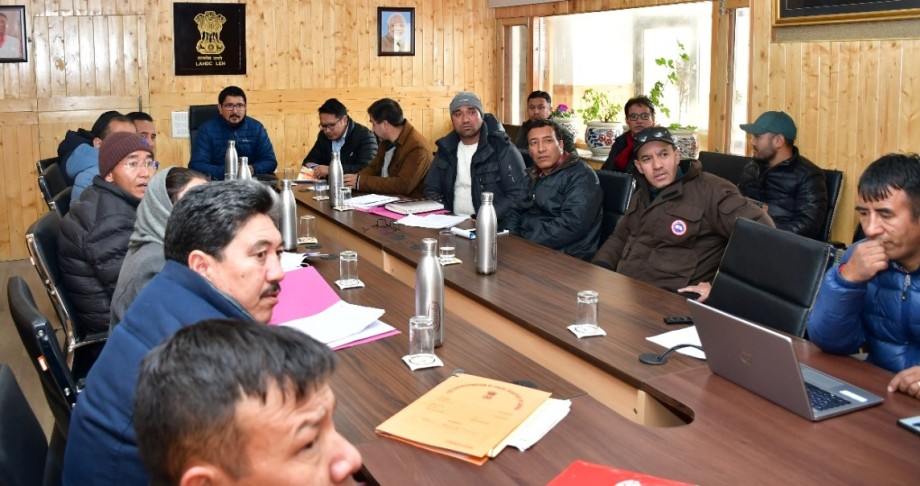 Leh :
Chairman/CEC, Adv Tashi Gyalson convened a meeting on November 19 and discussed plans for the regulation of Minor Mines and Minerals in the Leh district.
Deputy Director, Geology & Mining Ladakh, Dr. A.S Sodhi gave an overview on the current preparations of minor mineral blocks. 
CEC Gyalson instructed the concerned officers to ensure that the blocks/plots must be vetted by the Hill Council before the auctioning. He also directed that clearances should be taken from the public representatives including area councilors, Sarpanches and Nambardars through the concerned SDMs before the preparation of Minor Mines and Mineral Blocks in any region. 
He also suggested that Crasher machine plants should also bring under the ambit of the Minor Mineral Blocks.
The meeting was attended by Executive Councillor for Agriculture, Stanzin Chosphel; DC/CEO LAHDC Leh, Shrikant Suse, ADDC Leh, SE R&B, ACR Leh, Tehsildar Leh, DFO Leh, District Mineral Officer Leh, Xen I&FC Leh, District Officer, Pollution Control Board, AD Fisheries, and other concerned officials. Deputy Director Geology and Mining, and the Sub-Divisional Magistrates (SDM) s attended the meeting virtually.