Meeting held to strengthen wildlife/biodiversity conservation in Leh
By
Reach Ladakh Correspondent
LEH, Mar 15, 2018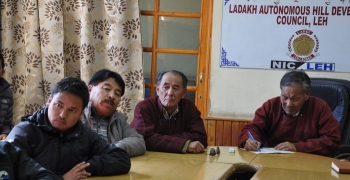 LEH :
A meeting was held to strengthen wildlife/biodiversity conservation and other livelihood programmes of Nature Conservation Foundation (NCF) in the district on March 7 at Council Secretariat, Leh.
Dorjey Motup highly appreciated the endeavour of NCF in bringing local people closer to nature with their long-term conservation and livelihood programmes since a decade.
He suggested NCF to expand their conservation programmes more in the entire Ladakh region.
To ensure smooth implementation of NCF programme, Dorjay Motup directed NCF to run their programmes in close coordination with govt. agencies like Wildlife Department and assured every possible support from Hill Council, Leh.
Impressed upon the successful result of Livestock Insurance Programme in Gya –Meru area by NCF, he directed Sheep Husbandry Department to exercise on a similar insurance policy for the entire district to cover the livestock population of Leh district under a secure insurance policy. And to ensure uniform economic benefits to the locals Cooperative Dept. was directed to strengthen all Cooperative Societies under their ambit in coming months.
He also appreciated Animal Husbandry Department for their ongoing feral dog sterilization programme and urged to bring feasible result in a quick way.
Tsering Sandup, EC Tourism suggested the need to bring all the wildlife and other conservation agencies working in Leh under the control of Hill Council Leh so that all such NGOs could be regulated as per the need of region wise. He said that it would also help to know the credibility of all the NGOs.
Tsering Wangdus, EC Agriculture also requested NCF to implement their programmes in Shaam area as some villages are experiencing human and wildlife conflict.
Councillors of various regions also put forth their suggestions and feedbacks in implementation and improvement in the NCF programmes.
A short film based on the wildlife conservation and other activities of NCF in India including Ladakh was showcased.
Charudutt Mishra, Director, Science & Conservation Snow Leopard Trust and Trustee NCF Dr. Abhishek Ghoshal, NCF and Karma Sonam, Field Coordinator Ladakh, NCF gave a detail presentation on the activities of NCF in Leh since twelve years and about the conservation and other livelihood programmes.