Meeting held to discuss forthcoming decennial census, 2021 in Leh
By
Reach Ladakh Correspondent
Leh, Nov 16, 2019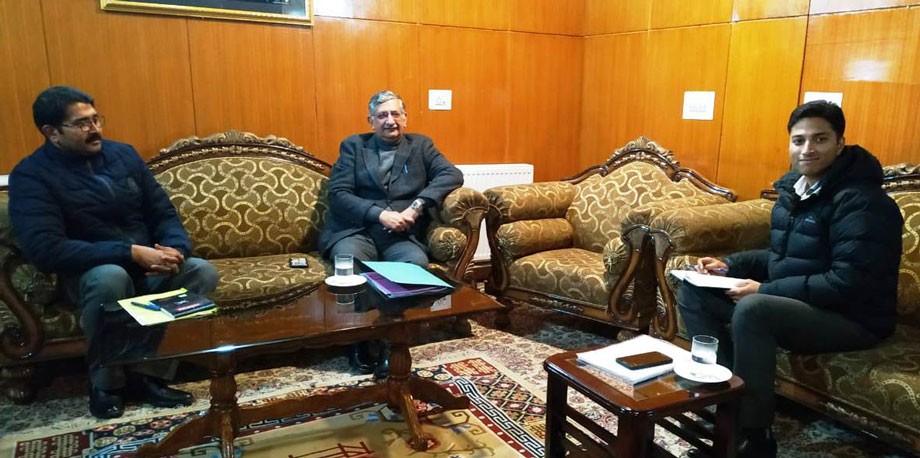 Leh :
 To brief about the forthcoming decennial census, 2021 in Leh, Umang Narula, and Advisor to L-G, UT Ladakh was called on by G Prasanna Ramaswamy, Director Census Operations for the Union Territories of J&K and Ladakh on November 15 in Leh.
Ramaswamy explained the salient features of Census 2021, notable among which is the use of a mobile application for capturing Census information along with the customary paper-based enumeration. He informed that the census 2021 will have two phases: the first comprises a comprehensive housing census and updation of the National Population Register and the second phase will be that of population enumeration. 
 
Ramaswamy further said that the entire exercise will be completed by March 2021. He added that the Deputy Commissioners will be the Principal District Census Officers and the Govt. of Ladakh has decided a Planning Department, presently being headed by Saugat Biswas, he will be the nodal department on behalf of the Government of Ladakh to coordinate census related activities. 
 
G Prasanna Ramaswamy also called on the Rigzin Samphel, Secretary Ladakh Affairs and the Saugat Biswas, Divisional Commissioner, Ladakh.