Lingshed village gets motorable road
DC congratulates the local people
By
Reach Ladakh Correspondent
Leh, Jul 30, 2019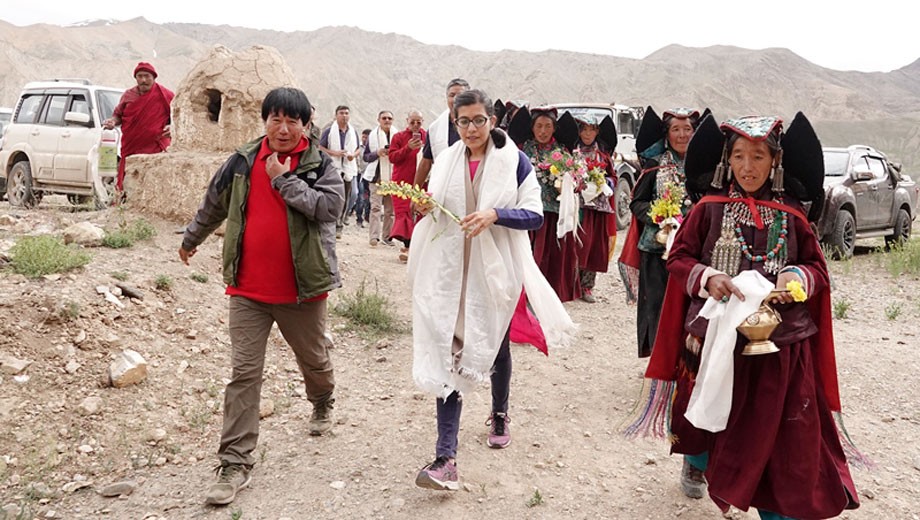 Leh :
The two-day long tour of DC/CEO, LAHDC, Leh Avny Lavasa to the village of Lingshed, Skumpata, Youlchung and Neyraks of trans Himalayan region was completed on July 29. She was accompanied by ADDC, Leh Moses Kunzang, SDM Khaltsi Tsering Motup, ACD Tsering Paldan, Ex-en PMGSY, Ex-en R&B and head of concern departments.
 DC, Leh called the day memorable for the people of Lingshed for having a motorable road for the first time in their area. She informed that this 90 km of road from Sumda Dho to Lingshed has been constructed under PMGSY and the same road will be extended by 52 kms towards Dipling covering 7 kms in the first phase at the cost of Rs.2.5 crores under NABARD. She asserted that the coming of the road will ease other developmental works in the area and many of their grievances and problems will be solved.
DC gave assurance to consider all their demands and committed to get a V-set installed in next 15 days on priority to address their communication problem. As demanded by Councilor Lingshed about helicopter services in Lingshed, DC said that this matter is being decided at the state level but she gave assurance to do the best at the level of administration to provide heli- services to Lingshed. She also visited the medical NTPC and government school at Lingshed. She directed the concerned engineer to provide the school and medical centre with pipeline for drinking water.
Sonam Dorjay, Councilor Lingshed expressed gratitude to DC, Leh for her visit in the trans Himalayan area and also submitted a memorandum demanding various facilities to ensure timely arrangements for organizing the next summer Buddhist teaching- 2021 (Yarchos Chenmo), multipurpose gathering ground, construction of a rest house, tractor road towards monastery, post office, bank branch and communication upgrade.
At Skumpata, the village Nambarder demanded for irrigation canal, construction of guest room, medical sub centre, ration store, heli-service and communication upgradation. DC  assured to address their problems on priority.  DC also gave assurance to install V-Set communication services as soon as possible in their village.    
Enroute to Youlchung, DC visited ICDS centre and also inaugurated newly constructed additional class room that was completed in 2018 at the cost of Rs.7 lakh by Education Department. Sarpanch Youlchung presented the village demands including upgradation of Primary School to Middle School, additional teacher, construction of irrigation canal, repair of medical center, Heli-services and upgradation of communication. He expressed gratitude to all the district officers headed by DC, Leh for their constant support, coordination and hardwork in successful completion of all the projects on time. Lavasa directed the HOD of concern departments for timely completion of the ongoing projects and assured to consider their demands.
Neyraks was the last village where people demanded for number of development projects like providing fund for construction of Primary School, to permit chadar trekking for 8days instead of 5 days, to permit tourists to visit till Linshed village, repair of water taps, provide land compensation and construct link road from Kong-tse to medical sub center. In response Lavasa instructed SDM Khaltsi to give compensation to the villagers for land, trees, fodder land and irrigation khuls that were damaged during road construction to Neyrak village by BRO 81 RCC. She also directed RDD to handover the newly constructed ration store to the public and PHE department to repair the water taps.