Leh observes Youm e Ashura with solemnity, reverence 
By
Stanzin Dasal
Leh, Aug 10, 2022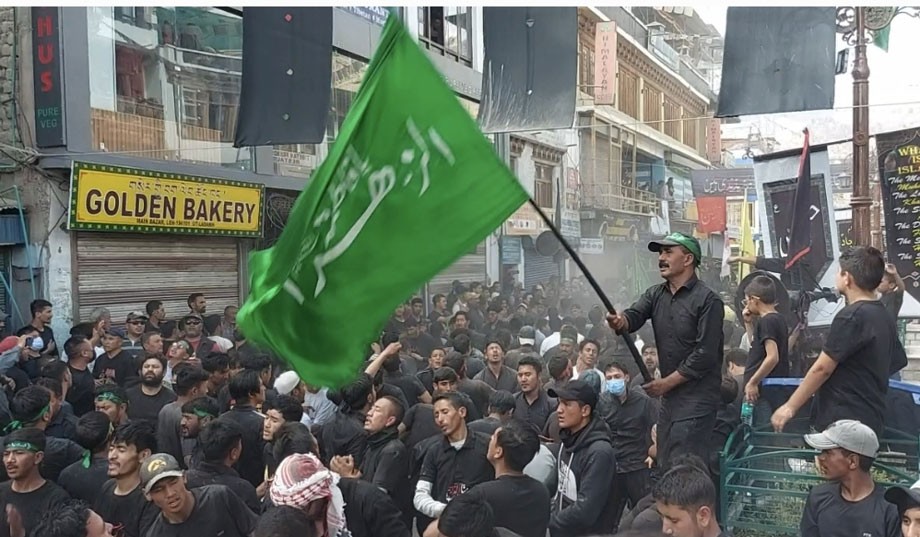 Leh :
 'Youm-e-Ashura', the 10th day of the Islamic month Moharram observed with due solemnity, somberness, and mourning in remembrance of the martyrdom of Prophet Mohammed's grandson, Imam Hussain, his family, and companions in the battle of Karbala in 680 AD. 
Thousands of Shia Muslims took part in the procession commenced from Jamia Masjid Chutey Rantak and concluded at Imam Bargah Leh.
Muharram marks the holy day of Ashura. Imam Hussain Ali, the grandson of the Prophet Muhammad was killed on this day during the battle of Karbala by the soldiers of the Caliph Yazid in 680 AD. The death of Imam al-Hussein is considered by the Shia community as a symbol of humanity's struggle against injustice, cruelty, and oppression.
Sheikh Zainul Abidin, President, Majlis-e-ulema said, "The sacrifice of Imam Hussain in the battle of Karbala was not only for Islam but for the entire humanity sake and justice. Imam Hussain preaches to everyone to live in peace, harmony, and brotherhood and we should all strive to walk on the path led by him."
Talking about developing and maintaining peace and harmony in Ladakh Sheikh Zainul Abidin said that every religion preaches peace and brotherhood and everyone should leave their differences aside and stand united for the development of Ladakh and making the region a peaceful and happy place to live in.
Anjuman Imamia Youth wing under the banner of Alamdar Health services also organised a blood bank camp in the main market.
In Chuchot, the Anjuman Imamia women wing also organised a procession starting from Khomeini Chowk and culminated at Imam Bargah, Chuchot Gongma. 
Shia women beating their chests and reciting lamentation joined the mourning procession.
Nasreen Fatima, President, Anjuman Imamia Women wing said that it is for the first time the procession is being taken out by women in Chuchot. 
" The day is not just an important day for the Shia community only, it is equally important to every human being because Imam Hussain sacrificed his life for the sake of humanity and Justice. The day preaches triumph of good over bad and justice over injustice", she added.
Muharram rituals are aimed at remembering the great sacrifices of Imam Hussain and his followers, who refused to bow to tyrannical authority.