Leh observes 31st Martyrs' day
By
Stanzin Dasal
Leh, Aug 27, 2020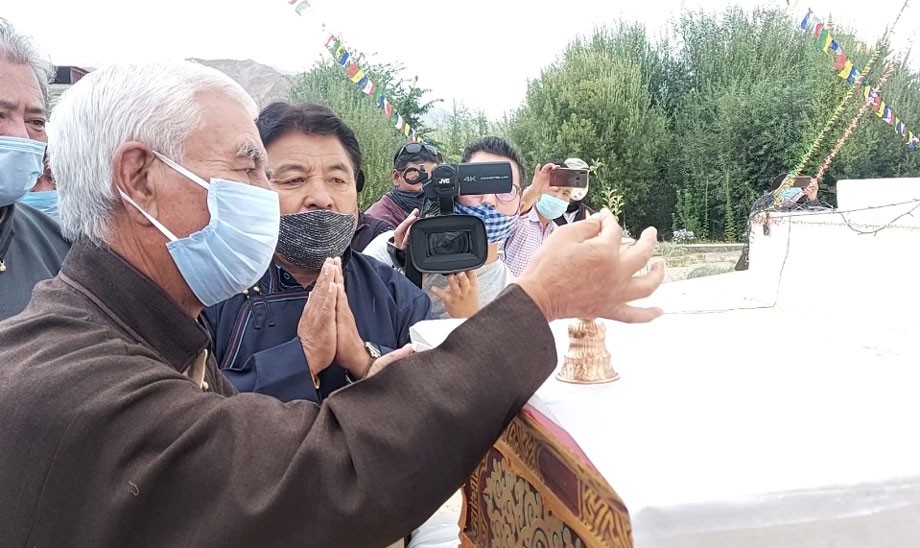 Leh :
Tribute was paid to the martyrs of the 1981 and 1989 agitation during the observation of 31st Martyrs day on August 27 at Memorial Park.
Amidst COVID-19 pandemic, the commemoration ceremony was organised by Ladakh Buddhist Association in a  symbolic way starting with prayers and a short address by President LBA.
P T Kunzang, President, LBA remembered the sacrifices of the martyrs who laid down their lives demanding Union Territory and Scheduled Tribe status for Ladakh during the 1981 and 1989 agitation. He said that it is because of their sacrifices we got Hill Council and Schedule Tribe certificate, the benefit of which is being availed by the people of Ladakh at all levels.
Nawang Rinchen of Sankar village, Tsering Stobdan of Durbuk, and Tsewang Dorjey of Saboo laid down their lives during the 1989 agitation for Union Territory demand. While Ven. Lobzang Tsondus of the Likir monastery and Tashi Angchuk of Saspol village sacrifice their lives during 1981 agitation, launched to demand the Scheduled Tribe status for residents of Ladakh.
Talking about the declaration of Union Territory status for Ladakh by the Union Government on August 5, PT Kunzang expressed gratitude to the government and the supreme sacrifices made by the people of Ladakh during the UT demand movement.
"There is a rising concern among the people of Ladakh for land, job, environment, culture, and identity which is an issue. Future of Ladakh is bleak, we all need to strive for a constitutional safeguard for Ladakh and I hope that in the coming day's government will reconsider our demand", he added.
He stressed on empowering the Hill Council and the importance of studying and brainstorms about the needed safeguards for Ladakh by all the stakeholders.
When asked about LBA stand about the domicile law for Ladakh, PT Kunzang said, "We will not accept the domicile law if it is against the interest of the people of Ladakh. We will protest and demand a constitutional safeguard."
Former, MP Thupstan Chhewang; CEC, Hill Council, Leh, Gyal P Wangyal; Territorial Congress Committee UT Ladakh President, Nawang Rigzin Jora; Councillors, political party leaders, family members of Nawang Dorjay Stobdan and many others also paid tribute to the heroes of Ladakh.