Leh celebrates 132nd birth anniversary of Dr. BR Ambedkar
By
Yangchen Dolma
Leh, Apr 15, 2023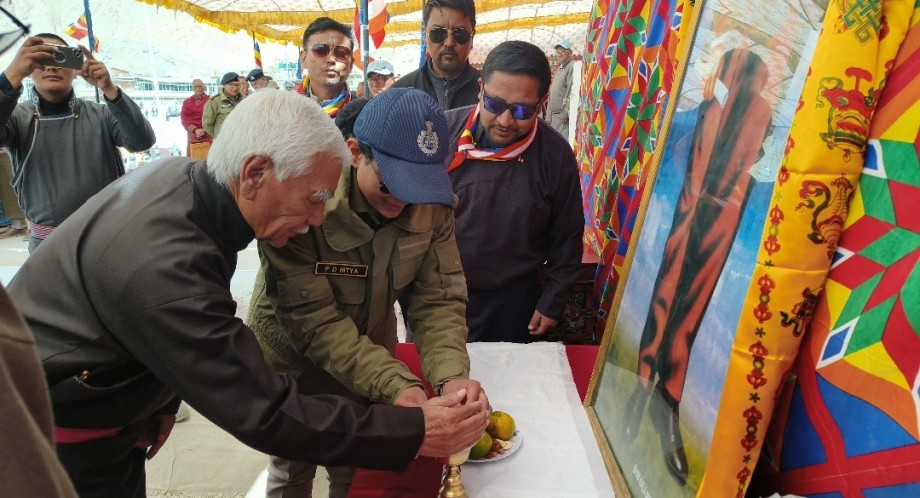 Leh :
Tribute paid to Dr B. R. Ambedkar, Father of the Indian Constitution on his 132nd birth anniversary.
 
Ladakh Buddhist Association Youth wing organised the event at pologround Leh on April 14. PD Nitya, SSP, Leh was present as a chief guest.
Talking about the life of BR Ambedkar, PD Nitya urged students to read BR Ambedkar's life and his philosophies and how relevant he is even today.
"Babasaheb Ambedkar is known as the messiah of human freedom. He was a social reformer who worked hard throughout his life to end social discrimination against weaker sections of the society", he added.
 
LBA President, Thupstan Chhewang urged to take a lesson from Dr. Ambedkar's life and asked the upcoming generation to help in eradication of caste systems in Ladakh which is against the teachings of Buddhism as well as the Indian Constitution.
He said that the Buddha believed in the equality of all human beings, but we humans have created barriers in the name of caste.
 
"The word 'Educate' is not just about academics but understanding the socio-economic condition. Education gives power and strength because you are exposed to the writings/ literature. Education enhances thinking and vision, you will understand the problem, the ways to be aware, and find a solution. The word 'Organise' is to rightfully take the rights unanimously, in an organised way. And the last mantra 'Agitate' is to struggle", without struggle, you will not achieve anything", he added.
Ashraf Ali Barcha, President, Anjuman Imamia; Dr. Abdul Qayum, President, Anjuman Moin ul Isalm; Deachen Chamga, President, Christian Association; Student of Siddhartha and Druk Padma Karpo schools also talked about BR Ambedkar and importance of Bhoti language.
 
A cultural programme from the student was also presented.
LBA Youth wing also organized essay writing competition among the students of the different school from Leh district. The competition was divided into four categories, from 5th to 12th class on different topics. The result of the essay competition will be announced on Buddha Jayanti.