Ladakh to get 2 pilot green hydrogen projects
MoU signed between Ladakh admin and NHPCL
By
Reach Ladakh Correspondent
Leh, Jul 15, 2022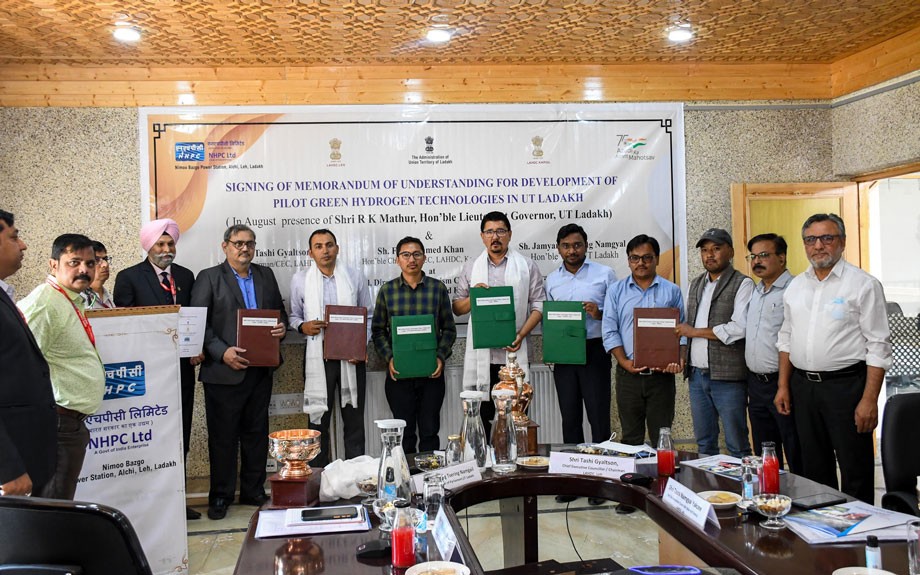 Leh :
Ladakh Administration signed a memorandum of understanding for the establishment of 2 pilot green hydrogen technologies with the National Hydroelectric Power Corporation Limited (NHPC) on July 14.
CEO, NHPC Renewable Energy Limited, A.K Pathak apprised the officials regarding the background of Green Hydrogen; Production/Working of Hydrogen Technology; Hydrogen Pilot Project, Kargil/ Leh; Present Status of Pilot Projects, among others. 
Lieutenant Governor, UT Ladakh, Radha Krishna Mathur urged NHPCL to ensure that the cost of hydrogen fuel is not costlier than other fuels.  He further directed NHPCL to develop a blueprint of hydrogen-based energy for Ladakh. 
NHPCL's cooperation was highly appreciated by CEC/Chairman, LAHDC, Leh, Tashi Gyalson. He said that with the growing threat of climate change due to the excessive release of carbon emissions, Ladakh is looking to clean energy alternatives to replace traditional fossil fuels. Hence, he informed the officials about the ongoing and upcoming carbon neutral projects. Furthermore, he stressed working towards sustainable development. 
CEC/Chairman, LAHDC, Kargil, Feroz Ahmed Khan stressed that climate change is a major threat to Ladakh. Therefore, major collective steps should be taken to tackle the devastating effects of climate change.
Secretary Power and New Renewable Energy, Ravinder Kumar said that the establishment of the 2 pilot projects in Ladakh was a historic moment. He said that the green hydrogen project is another step towards achieving "Carbon Neutral Ladakh" and the Power Department is also working on geothermal power projects. The Secretary further urged NHPC regarding decarbonizing transport to promote carbon-neutral mobility to help fight climate change. 
This initiative is a boost to the  Prime Minister's vision of a 'carbon neutral' Ladakh. The MoU will help Ladakh develop a carbon-free economy based on renewable sources and green hydrogen.