Ladakh's economy can be boosted with Medicinal and Aromatic Plants
By
Stanzin Dasal
Leh, Jun 02, 2020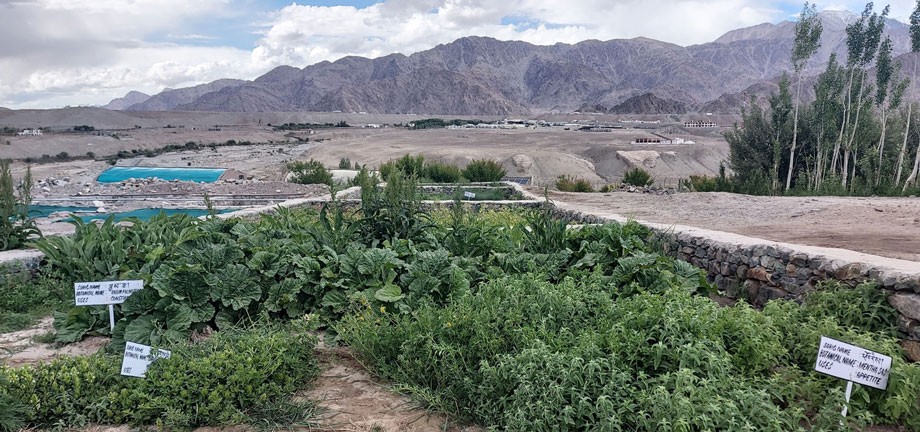 Leh :
 The high-altitude cold desert region of Ladakh is an abode for almost 1100 varieties of plants, out of which nearly 525 plants got medicinal value. The climatic and altitude variation adds to the unique diversity of these medicinal and aromatic plants.
Dr. Padma Gurmet, Director, National Research Institute for Sowa-Rigpa, Leh told us about the medicinal and aromatic plants of Ladakh. He said that these plants have special metabolic and reproductive strategies well suited to counteract the harsh climatic condition and altitude of this region. 
He further added, "Plants grown at Khardongla pass have the capability to adapt in more than 25 degrees Celsius temperature during the day time and to rough minus temperature during the night. The bright sunlight and dryness of the region also proves to be a boon to the plants to develop their strong aroma".
The emerging growth of herbal products industry holds great potential for the economic development of the region. It will be a huge scope of cosmetic, perfume, pharmaceutical industries as well as opening of wellness centres in the region.
Consequent to the formation of Ladakh as Union Territory, the Government of India approved the establishment of the National Research Institute for Sowa-Rigpa in Leh as an autonomous organization under the Ministry of AYUSH. This opened up many opportunities and scopes in the field of medicinal plants and herbal industries. Also, Prime Minister Narendra Modi talks about 'Solo' or the 'Rhodiola Rosea', the plant with superior medicinal properties and rich biodiversity of the region, which gave a new perspective to many to think about.
Looking at the economic potential of medicinal and aromatic plants, UT Ladakh also focuses to promote it further. In an interview with All India Radio, Rigzin Samphel, Commissioner Secretary, UT, Administration states medicinal and aromatic plant cultivation sector as a game-changer for Ladakh's economy. 
He states that, "Research on these medicinal and aromatic plants are already being done by DIHAR, SKUAST, and Sowa Rigpa. Now, the time is to be practical and come up with proof of the concept. A land in Agyam, Nubra valley has already been identified where cultivation of these plants will be carried out on 20 -25 kanals of land on an experiment basis".
In Kashmir valley, lavender is the potential and prospective crop for agribusiness to many farmers and youths. There is a story of many farmers who have transitioned from traditional crops such as maize to lavender farming because of the high economic potentials. 
Rigzin Samphel talked about the plan of UT administration to replicate the idea of cultivating lavender for essential oils in Ladakh also.  Dr. Padma Gurmet informed that out of the 525 wild plants which have medicinal values, hardly five of them are cultivable. Also, the cultivation of such plants are not being carried out on a large scale. There are very few farmers who cultivate these plants.
In the past, many awareness camps and workshops were held in Leh regarding the cultivation of medicinal and aromatic plants. Farmers were encouraged to explore and cultivate these plants to boost their income. But the question always arised about the productivity, market demand, availability of agro techniques and prices to be paid to the farmers or benefit-sharing issues.
Aiming to promote the traditional system of medicine, the National Research Institute for Sowa Rigpa acquired 200 kanal of land opposite to Phey village to develop the Trans Himalayan Herbal Garden. Cultivation of more than 100 species of medicinal plants is already in process on almost 60 kanal lands. 
Dr. Phuntsog Dolkar, Senior Research Fellow said that from the past two to three years, the cultivation initiative is being carried out in an extensive way focusing on organic farming. The cultivation process is the same as other cash crops but what we have noticed are that the medicinal plants take some more time to grow fully.
She explained that the cultivation of these medicinal plants are being carried out on this vast barren land on an experimental basis and is first of its kind which almost proved to be successful. Also, an effort is being made to conserve the many species of plants that are on the verge of extinction.
National Research Institute for Sowa Rigpa has also collaborated with few Research Institutes such as Himalayan Forest Research Institute, DIHAR, Indian Institute of Integrated Medicine, and GB Pant National Institute of Himalayan Environment & Sustainable Development.  
Dr. Padma Gurmet stressed the need for constituting a State Medicinal Plant Board and Ayush Mission Society in UT Ladakh to further engage in these sectors and promote its abilities. 
Rampant infrastructural development and climatic change are causing the extinction of many valuable species of plants. Cultivation and conservation strategies both the in situ, ex-situ and resource management are needed adequately for socio-economic development.