Ladakh Project Steering Committee, SECURE Himalaya meeting held in Leh
Discusses annual work plan 2020-21 for project SECURE Himalaya in UT Ladakh
By
Reach Ladakh Correspondent
Leh, May 29, 2020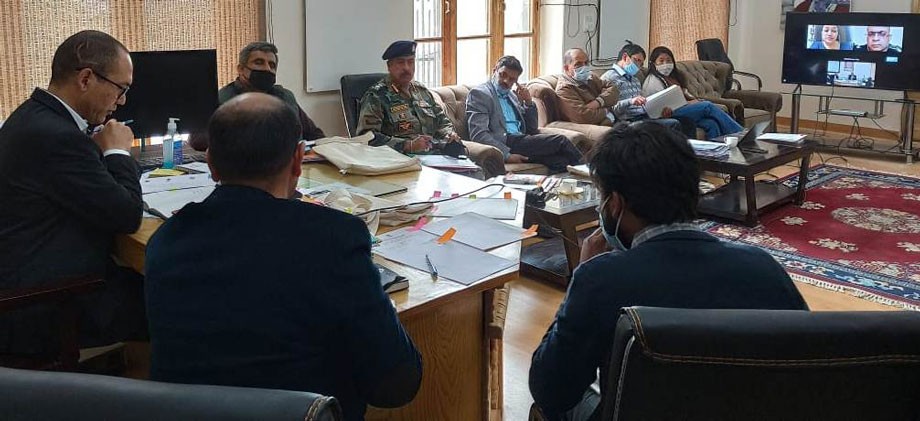 Leh :
The first meeting of the Ladakh Project Steering Committee, SECURE Himalaya was convened on May 29 by Rigzin Samphel, Commissioner Secretary, Forest, Ecology & Environment Department, UT Ladakh also the Chairman, project SECURE Himalaya.
Discussion on finalizing annual work plan 2020-21of SECURE Himalaya project in UT Ladakh, and other related matters under the project and various aspects were carried out.
The project of SECURE (Securing Livelihoods, Conservation, Sustainable Use and Restoration of High Range Himalayan Ecosystems) Himalaya is implemented by Ministry of Environment, Forest and Climate Change in association with UNDP (United Nations Development Programme) funded by Global Environment Facility. 
The six-year project aims to support the Government of India and State Governments to effectively promote sustainable land use and natural resource management in high range Himalayan ecosystems. The objective is to secure sustainable livelihoods and ensure the conservation of Snow Leopards and other associated species and habitats.
In the Union Territory of Ladakh, the project will be implemented in the Changthang landscape, wherein UNDP, along with the Department of Wildlife Protection Ladakh, will be working in cooperation with other district line departments, on various livelihood and conservation initiatives. 
 
Rigzin Samphel urged the proper implementation of the aims and objectives of the project. In this direction, the correlation between tourism and wildlife be augmented and remodel the relation by devising new models to fall back during situations such as the current Covid-19 pandemic.
He said that the focus should be made on addressing man-animal conflict, taking people into confidence to give actual meaning to the essence of the project. Giving the fact of initial days of UT Ladakh, he stressed on the need for building institutions on discussed models that would serve as the gateway to Ladakh.
Sajid Sultan, Chief Wildlife Warden, Ladakh; Col Arvind Batra, HQ 14 Corps; Md Mumtaz Ali, Director, Tourism Ladakh; Dr. OP Chaurasia, Director, DIHAR, Tahir Hussain, Director Finance; Tsewang Gyaltsan, Dy. Director Planning; Dr. Tundup Namgyal, District Sheep Husbandry Officer; Phunchok Wangtak, Block Office, CWLW office Ladakh and other concerned officers attended the meeting. 
Programme Manager, United Nations Development Programme (UNDP), Dr. Ruchi Pant, State Coordinator Officer, Gayatri Mahar, and Consultant Administration and Finance, Gaurav Joshi attended the meeting through video conferencing.