Ladakh celebrates 8th National Handloom Day
By
Reach Ladakh Correspondent
Leh, Aug 08, 2022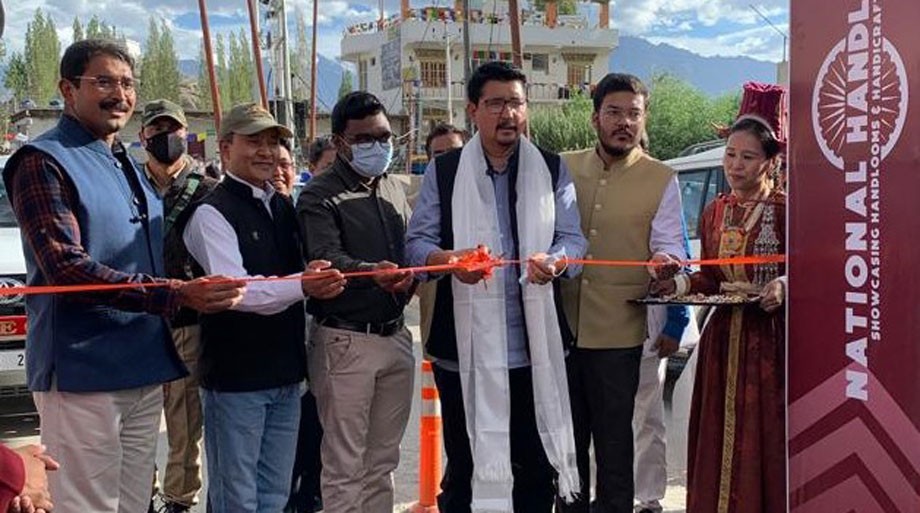 Leh :
Week-long Handloom and Handicraft exhibition on the occasion of 8th National Handlooms Day as a part of Azadi Ka Amrit Mahotsav was inaugurated by CEC, Hill Council, Leh, Tashi Gyalson on August 8.
The exhibition provided a platform to over 30 participants in Leh, where local artisans, crafts persons, and entrepreneurs showcased their handmade products.
Executive Councilor Handloom LAHDC Leh Ghulam Mehdi Ashoor, Commissioner/Secretary Industries & Commerce, UT - Ladakh Saugat Biswas, Deputy Commissioner Leh, Shrikant Balasaheb Suse, artisans, and entrepreneurs were present on the occasion.
 
 CEC Tashi Gyalson appreciated the initiative taken by the Industries and Commerce department for exhibiting the handcrafted products of Ladakh on Handloom Day. He expressed optimism about the future scope of product variations and advance development in the products of Ladakh with all the training being taken up with the leading institutes of India.
 EC Ghulam Mehdi Ashoor in his address said that the LAHDC is very hopeful for the increase in the financial income of all the artisans, entrepreneurs, and other dealings with the hand-woven products of Ladakh. He also informed that the handloom and handicrafts are two sectors that have the potential to provide enough employment opportunities to the local youth of Ladakh. He urged youths to take maximum benefits of all the schemes to generate employment for themselves and others. He stated that handloom has been an integral part of Ladakhi tradition and with the right hand-holding and encouragement, this sector holds the great economic potential to make Ladakh prosper.
Secretary, Industries and Commerce, Saugat Biswas added that special emphasis is being given to marketing of products such as Pashmina, Yak wool, Camel wool, etc. Improvement in the quality and design of the products is the special emphasis that's being taken up by the administration and already in comparison to last year's products; he could see a major up-gradation in the product's exhibited. Further, he mentioned that he hoped for the artisans to continue their hard work for taking Ladakh's handmade products to achieve established goals on national and international levels.   
Joint Director, Handloom & Handicraft UT-Ladakh, Lakshay Singhal in his introductory remarks said that National Handloom Day is celebrated to honor the weavers' community & acknowledge their contribution to society. The aim of celebrating National Handloom day is to protect the rich heritage of Ladakh and to empower the weavers/artisans who are majorly women of the sector.
Superintendent, Handloom Department Dr. Tsering Motup said that UT Ladakh is celebrating Handlooms Day for the second time and is hopeful for reaching heights with the initiatives taken by the Government of India.