Ladakh celebrates 74th Independence day with great enthusiasm
Ladakh, with Union Territory status, marks the beginning of a new era of growth &support from the Union Govt, says L-G Mathur
By
Stanzin Dasal
Leh, Aug 15, 2020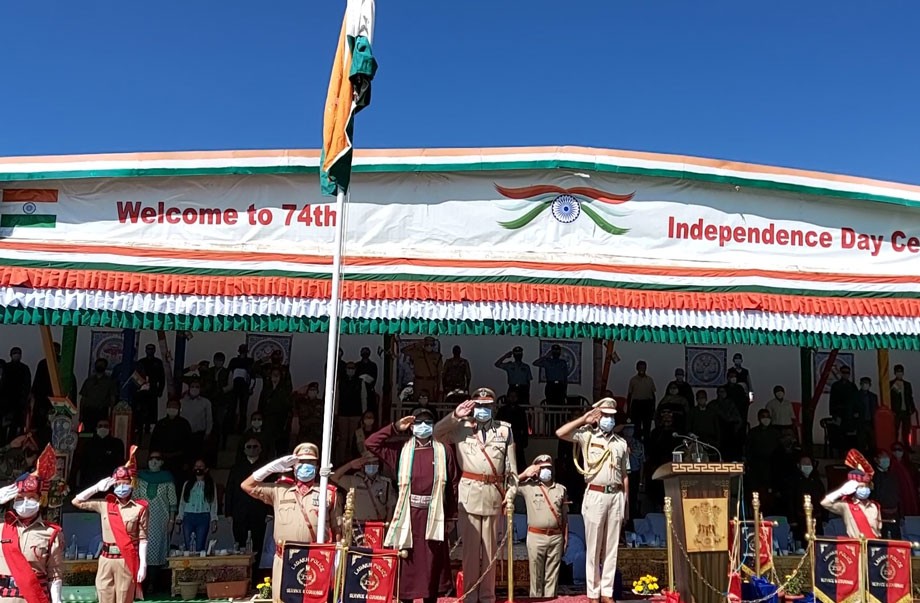 Leh :
Ensuring all safety protocols, including social distancing and wearing masks, Ladakh celebrated the 74th Independence day with full enthusiasm on August 15.
R K Mathur, Lieutenant Governor unfurled the national flag at Pologround, Leh while in Kargil, Feroz Ahmed Khan, CEC, Hill Council, Kargil unfurled the tricolor at Khree Sultan Cho stadium, Bymathang.
Addressing the gathering, R K Mathur extended his warm greetings to all the people of Ladakh and congratulated on the first anniversary of UT Ladakh and for the beginning of a new historic journey. He said that this year's Independence day holds a great significance for the people of Ladakh as its 70-year-old demand for Union Territory status was fulfilled.  
He also remembered the brave soldiers who laid down their lives to defend the territorial integrity and praised Indian armed forces, paramilitary forces, and the Indian Air force for playing a pivotal role in the development of the region and has taken care of the people of Ladakh in times of need and difficulties.  
Amidst COVID-19 pandemic, Lieutenant Governor expressed gratitude to all the COVID-19 warriors including, doctors, nurses, paramedics, municipal staff, police, and administration. 
Talking about the keen interest of Prime Minister Narendra Modi to develop Ladakh, R K Mathur spoke about Special Development Package provision in the J&K Reorganisation Act, 2019, vision to make Ladakh a carbon-neutral region, developing Leh and Kargil as smart cities and making Ladakh an organic region. He also highlighted Ladakh's potential to clean energy sources including, solar, wind, hydro, and geothermal energy. 
He further assured that the UT administration will meet people's expectations in ensuring protection and development.  
Highlighting the apprehension of people regarding job, environment, land ownership, and the fear of inundation by outsiders, he informed that the government is working on a domicile law for Ladakh that will address the concerns related to land and job protection. 
He further added that Ladakh with UT status is at the threshold of a new era marked by accelerated growth assisted by extensive funding and support from Union Government. And urged all to work together to create a new progressive and prosperous Ladakh that will go a long way in bringing parity in development with the rest of the country. 
The programme ended with the applaud and felicitation of frontline workers fighting against novel coronavirus.