L-G Mathur reviews various departments
By
Reach Ladakh Correspondent
Leh, Sep 12, 2020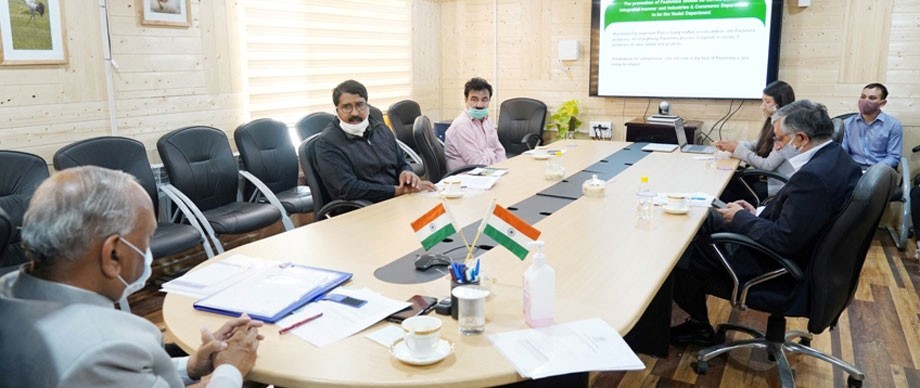 Leh :
Lieutenant Governor, R K Mathur reviewed the Departments of Consumer Affairs and Public Distribution (CAPD), Industry & Commerce, Planning Development & Monitoring, and Information Technology on September 11.
 
Discussing the implementation of the "One Nation One Ration Card" scheme to assist the beneficiaries productively, Lieutenant Governor suggested that areas with internet challenge must be offered alternate means to avail benefits. 
 While taking account of winter stocking of non-perishable items, the construction of storage facilities in Kargil and Zanskar was suggested.
R K Mathur emphasized the completion of the Co-operatives' cold storage facility and reiterated setting up of a team and office at the required location for supplying perishable items and also finalize tie-ups with airlines. 
Divisional Commissioner, Saugat Biswas informed about the proposal to upgrade and automate the go-downs which will comprise of repairs and induction of machinery such as forklifts, etc.  
Reviewing the progress of the Department of Industries and Commerce, Saugat Biswas informed about the projects envisioned for the near future. 
Mathur stressed on creating value addition to Pashmina and stated that all possible efforts must be put in to promote Pashmina with Ladakh's identity and to bring maximum benefits to the growers. 
Construction of an Integrated Crafts Complex in Leh, identification of products with potential and to further promote them by the development of various Crafts Villages to showcase Ladakh's culture were also discussed. Pasteurization and promotion of Ladakh's indigenous milk were also deliberated upon.
Stressing on the importance of connectivity, LG Mathur directed the Saugat Biswas to ensure phone and internet connectivity even in the remotest parts of Ladakh, considering its paramount role in the education of children.
The implementation of the biometric system in government offices was also discussed during the meeting.