L-G Mathur releases ₹245 crore package for Changthang region
By
Reach Ladakh Correspondent
Nyoma, Aug 29, 2020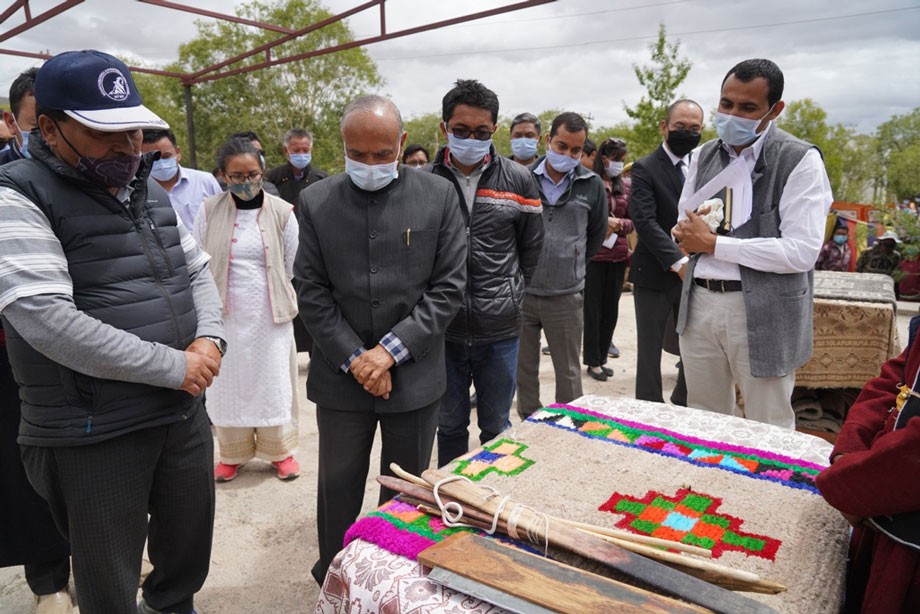 Nyoma :
Lieutenant Governor, R K Mathur released ₹245 crore package for Changthang region which includes ₹ 129.50 crore under Changthang package, ₹91.97 crore under Special Development Package and₹ 23.536 crore under BADP on August 28.
R K Mathur congratulated people of Changthang for the stimulus package designed to cater to the core needs of the pastoral and agro-pastoral communities of Changthang. The financial package will be covering critical infrastructural development, housing, health, education, employment opportunity, telecommunication, energy, sports, livestock essentials, etc.
He thanked Prime Minister Narendra Modi, Home Minister Amit Shah, and the central government for extending generous support and concern for the development of Ladakh through such financial packages. He also complimented and appreciated the collective efforts put in by Hill Council, Leh headed by CEC, Gyal P Wangyal, MP Jamyang Tsering Namgyal, UT Administration, and elected village representatives of Changthang in making the dream of this ₹ 245 crore package a reality.
Mathur asserted that be it UT Administration, Hill Council, or village level representatives everyone has a crucial role to ensure effective implementation on the ground. He emphasized on maintaining a close relationship between the administration and the public through public representatives.
He further stressed working together to pave the way for progress and urged people for cooperation and participation in the development of the Changthang region.
Highlighting the broad objectives of UT Administration, he said, "Our aim is to provide a better life to the people of Changthang and specifically a modern nomadic lifestyle for the nomads."
He raised the possibility of increasing the existing ₹15 crore Pashmina industry to a whopping ₹100 crore industry in the future considering its high potential. He stated that Ladakh's Pashmina shall become world-recognized, assisted with GI tag, technological, and other support. Also, he stressed on producing khadi yarn given its high market value and easy processing without any use of heavy machinery.
Mathur further stressed on making 100% fodder procurement through local society cutting on the dependency for its supply from outside Ladakh. He said that it will generate employment avenues for locals and ensure the concentration of income within the region.
Talking about the provision of a medical facility at the doorstep, he said that mobile medical units with specialized doctors will be regulated. He informed that in Changthang 3 new doctors have already joined and one more shall join in the near future. 
A cheque of ₹3 crore revolving fund in favor of All Pashmina Grower Cooperative Society Changthang was also handed over. R K Mathur informed that efforts are being made to give an additional₹.5 crore credit facility through the bank. The Administration also dedicated a Veterinary Mobile Ambulance, satellite phone, solar water heaters, etc.
CEC, Gyal P Wangyal; E C, Animal/Sheep Husbandry, Konchok Stanzin; MP Ladakh, Jamyang Tsering Namgyal; Commissioner Secretary, Rigzin Samphel; Additional Secretary Ravinder Kumar; DC, Leh Sachin Kumar Vaishya; Councilors from Changthang, BDC Chairpersons, village representatives, and others were present on the occasion.