L-G Mathur launches Mental Health OPD, Telephonic Medical consultation
By
Reach Ladakh Correspondent
Leh, Jul 13, 2020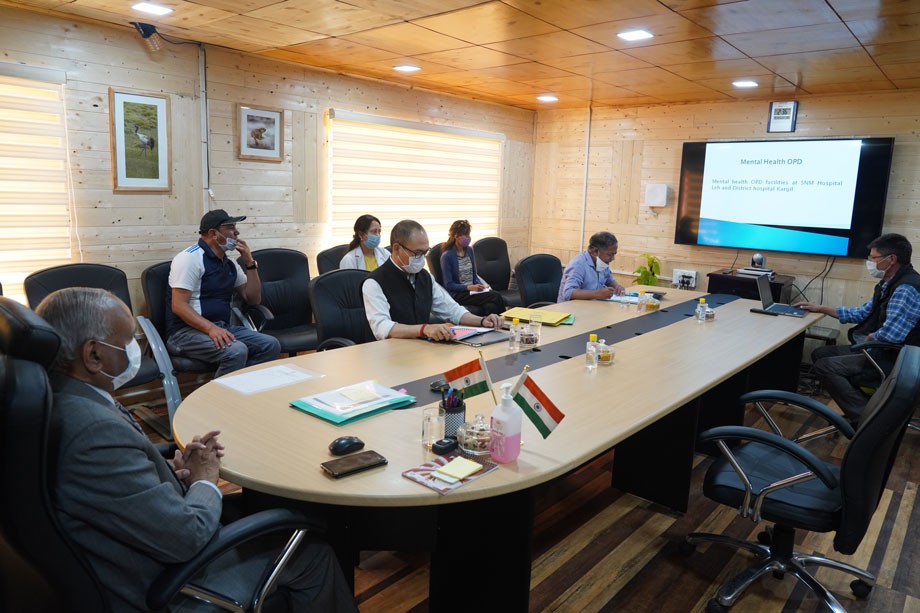 Leh :
Mental Health OPD and Telephonic Medical Consultation in both the district hospitals of Leh and Kargil were launched digitally by R K Mathur, Lieutenant Governor on July 13 at Raj Niwas.
Dr. Padma Angmo, Psychiatrist informed about the growing number of mental health issues in Ladakh including depression, drug addiction, and suicides. 
R K Mathur expressed his hope that the mental health facilities in hospitals will provide help and support to the people who have mental health issues. He stressed on the need to strengthen the psychiatry role in district hospitals and to have de-addiction centres in Leh and Kargil. 
Also, he enquired about the availability of COVID-19 testing capacity in Ladakh keeping in view the need for tourism.        
Dr. Phuntsog Angchuk, Director Health informed about the services to be provided in the mental health OPD that include general psychiatry, psychotherapy, behavioural therapy, child guidance clinic, and de-addiction. The OPD days are Monday, Wednesday, and Friday from 10 a.m. to 4 p.m.
He said that the telephonic medical consultation OPD will be available at SNM Hospital, Leh from Tuesday to Saturday, and at District Hospital, Kargil from Monday to Saturday from 10 a.m. to 4 p.m. People can avail the telephonic consultation OPD services in Leh on 01982-256907 and 01985-233255 for Kargil district hospital. 
Dr. Angchuk informed R K Mathur about the procurement of one additional COVID-19 testing machine (RT – PCR) and an automatic RNA Extractor for Ladakh with the help of ICMR.