L-G Mathur inaugurates COVID-19 testing facility at DIHAR
By
Reach Ladakh Correspondent
Leh, Jul 22, 2020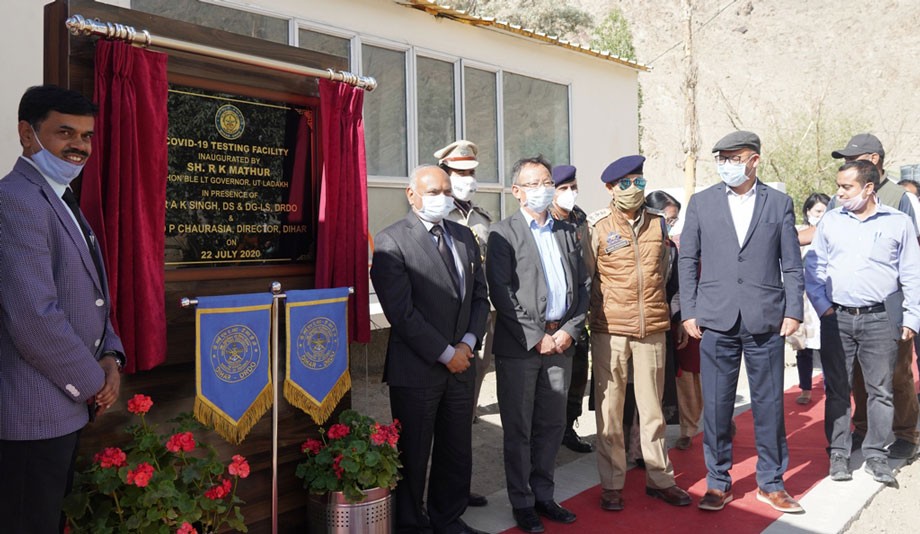 Leh :
COVID-19 testing facility established in adherence to the safety standards and advisories of ICMR at DIHAR campus, Leh was inaugurated by Lieutenant Governor R K Mathur on July 22.
 
Dr. O P Chaurasia Director, DIHAR; Brig. J B Singh, Commandant 153 GH; Dr. Padma Gurmet, Director, NRISR, Leh; Dr. Mutup Dorjey, CMO, Leh and his team of doctors from SNM Hospital, Col. Manoj Batra, Nodal Officer of COVID Testing Lab and Dr. Tsering Stobdan, Sr. Scientist DIHAR were present. 
 
R K Mathur lauded the efforts put in for establishing the COVID-19 testing facility in DIHAR and procurement of required materials and machinery in the right quantity at the right time. He thanked Dr. G Satheesh Reddy, Chairman, DRDO & Secretary, Department of Defence, R&D for making this facility available at DIHAR. He expressed hope that it will augment the testing capacity in Ladakh and would help in keeping a close monitoring of the infected persons.
Also, he inquired about the bio-safety aspect of the testing facility and exhorted to ensure all precautionary measures to minimize cross-contamination and safety of researchers, health professionals, and the environment.       
 
While inspecting the testing facility, Dr. I P Kumar, Scientist 'F' from INMAS, Delhi informed that the facility is capable of screening 50 samples per day. Besides, it can be utilized for training manpower for COVID testing. It has two robust validated Bio-safety Cabinets (B2 type) for virus neutralization and RNA isolation which would be carried out in dedicated rooms. The downstream processing of samples would be done in the Pre-PCR lab and RT-PCR lab. 
 
Dr. O.P. Chaurasia, Director, DIHAR said that apart from the utility of the facility in addressing the ongoing pandemic, this facility will be of great significance to address future bio-threats and carrying out R&D activities pertinent to agro-animals diseases.