L-G lays foundation stone of Spituk monastery
By
Reach Ladakh Correspondent
Leh, May 02, 2023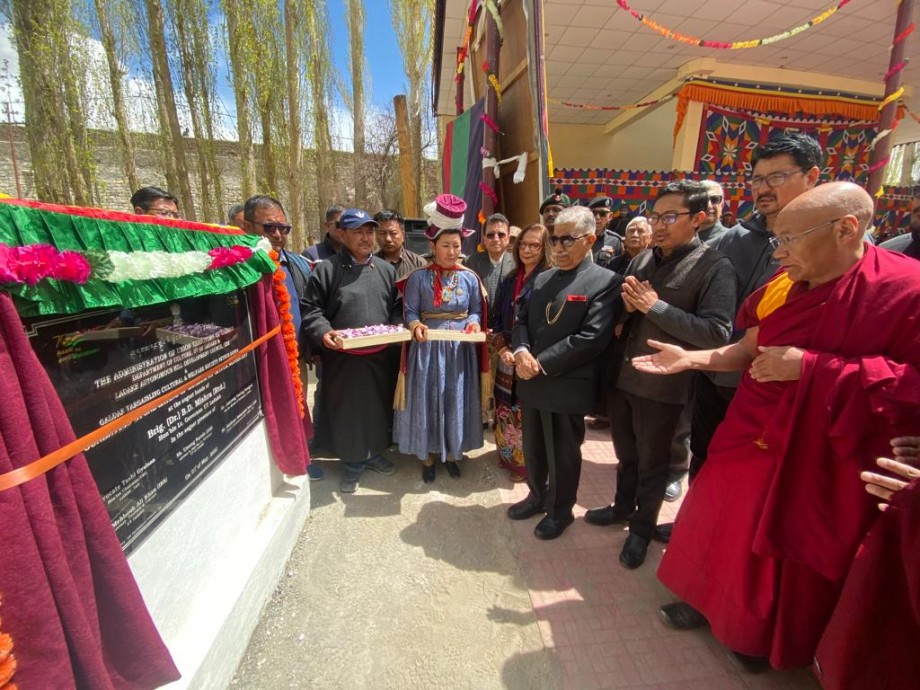 Leh :
Lieutenant Governor of Ladakh, Brigadier (Dr) BD Mishra (Retd) laid the foundation stone of the museum at Spituk Monastery on May 1. The museum will be constructed at an estimated cost of ₹2.71 crore by the Leh Development Authority.
Speaking on the occasion, LG stated that he considers himself fortunate for getting the opportunity to work for Ladakh due to the region's centuries-old unique culture, heritage, and traditions. He informed that the museum at Spituk Monastery will facilitate the preservation and protection of ancient artifacts which remind us of Ladakh's rich culture and heritage.
Highlighting Prime Minister, Narendra Modi's vision to protect Ladakh's distinct ancient culture, heritage, and traditions, LG stated that there are several other places in Ladakh where the artifacts need restoration and protection and assured to take necessary measures in this regard to stay connected with our roots. He also stated we would become disoriented and disconnected like a loose string if we lose touch with our roots. He further shared his aspirations and goals to work for the protection and preservation of the rich artifacts of Ladakh.
Praising Kushok Bakula Rinpoche, the head of Spituk Monastery and in whose memory the museum will be built, LG called him an incarnation of Lord Buddha who left behind a rich legacy that continues to inspire us. He reminded everyone of their responsibility to work for cultural protection along with the preservation of rich and ancient artifacts of Ladakh. He sought everyone's cooperation for the protection and preservation of the rich Ladakhi culture and artifacts as the future of our youth would be defined by this.
LG assured that funds from the Centre for the development of Ladakh would increase in the future but reiterated the need to spend the fund for the holistic development of the region, especially in the primary sector such as agriculture, horticulture, animal husbandry, etc. He also shared his concerns, especially the need for proper management of water due to the depletion of water sources. He emphasized the need to protect river and water bodies by keeping them clean and avoiding littering and polluting them with sewage waste.
LG shared his vision to make the Ladakh Administration 'transparent and accountable'. He informed that the departmental secretaries/heads of departments would meet the citizens of Ladakh three days a week to resolve their issues. He also informed about his mission to make Ladakh a 'Corruption and Delay-Free' Union Territory. He advised the citizens of Ladakh to work and participate in the overall development of Ladakh and preserve the rich artifacts and ancient culture and traditions of the region.
Chairman, LAHDC Leh, Tashi Gyalson; Member of Parliament from Ladakh, Jamyang Tsering Namgyal; Advisor Umang Narula; Councillor, Phyang, Tundup Nurboo; Chairperson, BDC, Dr. Skalzang Dorjey; PRI representatives; Secretary, Tourism and Culture, Shri Mehboob Ali Khan; President, Ladakh Buddhist Association, Shri Thupstan Chhewang; President, Anjuman Imamia; Shru Ashraf Ali Barcha; President, Moin-ul Islam Youth Wing, Advocate Ramzan; Ven Lobzang Wangchuk, Head Lama, Spituk Monastery and monks and villagers from Spituk were present during the event.