L-G inspects ongoing preparatory works for Y20 Pre-Summit to be held 
By
Reach Ladakh Correspondent
Leh, Apr 24, 2023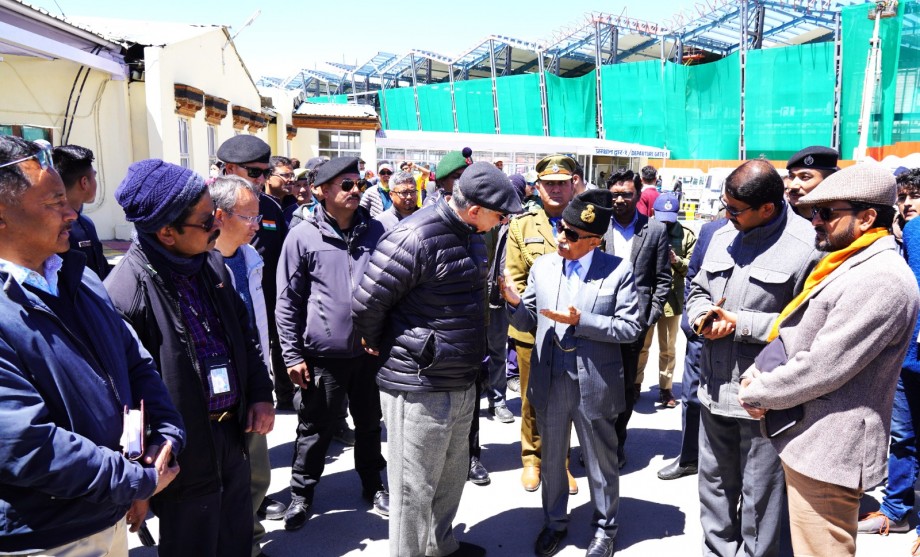 Leh :
Lieutenant Governor of Ladakh, Brigadier (Dr) BD Mishra (Retd) reviewed the ongoing preparatory works for the visit of the delegates from different countries for the Youth 20 Pre-Summit to be held in Leh from April 26 to 28, 2023 under the aegis of G20 India Summit.
Kushok Bakula Rinpoche (KBR) airport and the Sindhu Sanskriti Kendra (SSK) 
He visited the arrival section of the Kushok Bakula Rinpoche (KBR) airport and instructed the officials to rectify and replace broken tiles, and install hoardings and sign boards welcoming the delegates to Ladakh. He inspected the e-buses in which the delegates would be transported to their respective hotels. 
The concerned officials were asked to make necessary arrangements to ensure that the delegates do not face any inconvenience while being ferried to their hotels and also during their stay in Leh.
L-G inspected the site where tents/stands have been installed to provide medical facilities and refreshments to the delegates. He instructed that the attendants/staff at these stalls should be in proper uniforms. He commended the officials of the Airports Authority of India for the improvement in cleanliness and other facilities at the KBR airport.  
He also visited the Sindhu Sanskriti Kendra and inspected the preparatory works.
Divisional Commissioner, Saugat Biswas who is also the G-20 Nodal Officer in Ladakh, informed about various arrangements made for the delegates such as traditional welcome by cultural troupes from Ladakh; the installation of mobile toilets and the use of e-buses for ferrying the delegates to their respective hotels; arrangements made for proper coordination for the tagging and transportation of the luggage/baggage of the delegates from Delhi to Leh; the briefing to be made by doctors from AIIMS about health and safety measures to be observed by the delegates during their stay in Ladakh, etc.
Advisor, Shri Umang Narula; Commissioner Secretary, Ajeet Kumar Sahu; Commissioner Secretary, Saugat Biswas; Deputy Commissioner, Leh, Shri Shrikant Suse; SSP Leh, Smt PD Nitya; other government officials and officials from AAI were present during HLG's visit.