L-G inaugurates Kargil Girls Hostel at Jammu virtually
By
Reach Ladakh Correspondent
Leh, May 08, 2023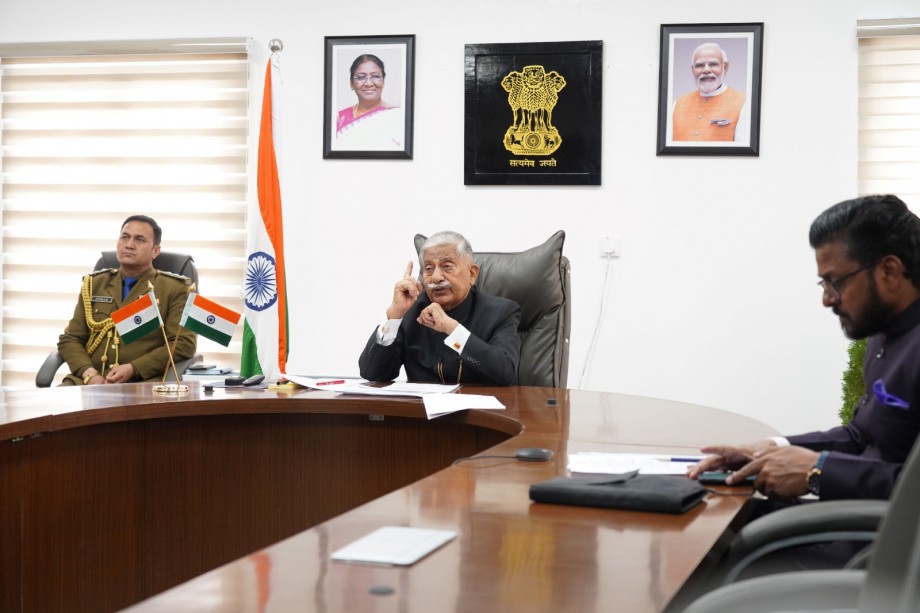 Leh :
Lieutenant Governor of Ladakh, Brigadier (Dr) BD Mishra (Retd) virtually inaugurated the Kargil Girls Hostel at Majeen Sidhra in Jammu on May 6.
 The Girls Hostel, with a capacity to house 154 students in its single, double, and triple-bedded 64 rooms and spread over five kanals of land, has been constructed for Rs 14.92 crores.
L-G commended Chairman LAHDC Kargil, Feroz Ahmed Khan, and concerned officials for the qualitative expenditure of the funds allocated for the construction of the hostel in little over two years despite the prevalence of the Covid-19 pandemic and also for ensuring all possible facilities for the girl students at the hostel. He emphasized the need for a medical assistance room at the Girls' Hostel.
Chairman, LAHDC Kargil, Feroz Ahmed Khan, informed that the Girls Hostel at Majeen Sidhra in Jammu was a long-pending demand from the girl students from Kargil studying in Jammu. He thanked Jammu Development Authority for allotting land for the hostel and PWD Ladakh for completing the construction of the hostel in a short period despite the prevalence of the Covid-19 pandemic. He informed that a transparent process will be adopted for the admission of girl students to the hostel.
Feroz Ahmed highlighted various issues, including the negligible execution of work on the ground in Kargil by construction agencies due to which they have to surrender funds sanctioned for the project works; the need for reservation of seats for Ladakhi students in educational institutions in J&K; the need for expediting recruitment of gazetted posts and the need for an ambulance for the Girls Hostel at Jammu under the MP Fund.
Commissioner Secretary, PWD, Ajeet Kumar Sahu, informed that the hostel will provide safe and secure accommodation for girl students from Kargil. He also informed that the hostel will have facilities such as a kitchen, visitor hall, reading room, multipurpose hall, and gym.
LG informed about the process being initiated to blacklist construction agencies that fail to execute project works in Ladakh within the stipulated time frame thereby hampering the overall development of Ladakh. He also assured to take up the matter of reservation of seats for students from Ladakh in educational institutions in Jammu and Kashmir to ensure that our youth have access to quality education. He further assured to expedite the process of drafting recruitment rules for gazetted posts along with its notification through UPSC so that the aspiring candidates do not cross their age limit and also to ensure that there is no 'brain drain' of talented Ladakhi youth to other states of India.
He also informed about the efforts to be made by the UT Administration with consultation with both Hill Councils and PRIs institutions to take up a few developmental projects and complete them within a short period instead of taking up a lot of development projects which take a lot of time for completion. He informed that he will seek funds under Special Development Package from the Centre for projects that need special attention.
LG emphasized the need for managing and using water judiciously along with taking care of water sources and water bodies to save drinking water for posterity. He informed about the five-member team from the Ministry of Jal Shakti who will assess works being carried out in different locations of Ladakh under the Jal Jeevan Mission to assess the total work completed to date and necessary measures that need to be taken to complete the work under the scheme. He informed that necessary measures will be taken to ensure that water bodies are not polluted and restrictions will be put on borewells in Ladakh.
He further informed about the order issued to Departmental Secretaries to hold meetings with citizens of Ladakh three days a week to look into their issues. He sought cooperation from the citizens of Ladakh to make Ladakh a 'Corruption and Delay-Free' Union Territory.
Executive Councillors- Mubarak Shah, Aga Syed Mehdi Fazily, and Mohsin Ali along with Councillors; Deputy Commissioner, Kargil, Santosh Sukhdeve; Vice-Chairman, Jammu Development Authority, Pankaj Magotra; members of students association and other students were present during the inauguration.