L-G chairs review meet with all Secretaries
By
Reach Ladakh Correspondent
Leh, Apr 12, 2023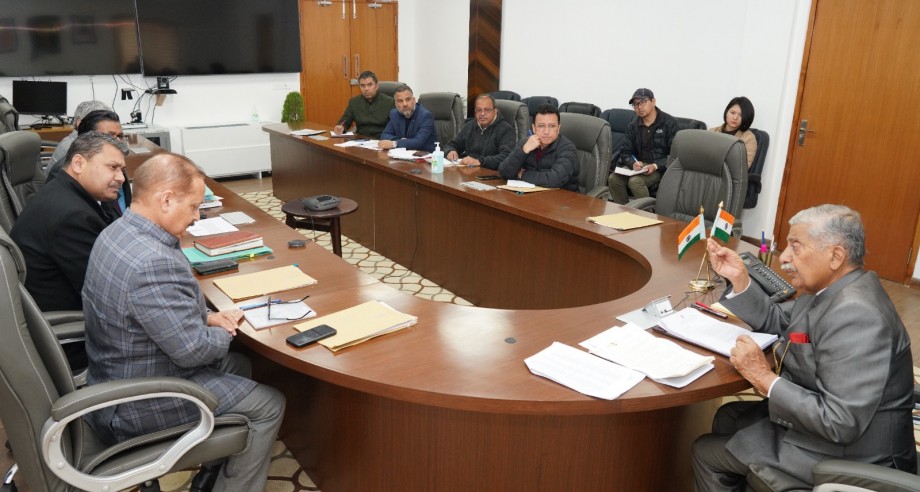 Leh :
Lieutenant Governor of Ladakh, Brigadier (Dr) BD Mishra (Retd) held a meeting with the departmental secretaries and reviewed the progress of their respective departments along with the issues faced by the citizens of Ladakh on April 11 at Raj Niwas.
LG inquired about the condition of the minor rape victim along with the necessary steps being taken by the Administration to fast-track the case for a speedy trial to ensure justice for her and her family members. He also instructed the Social Welfare Department to provide all necessary assistance from the administration to the victim and her family members. 
Commissioner Secretary, Social, and Tribal Welfare, Padma Angmo informed about the necessary counseling and support being extended to the child and the family.
He inquired about the security arrangements for the delegates who will visit Leh for the Y-20 Pre-Summit to be held from April 26-28 under the aegis of the G20 India Summit. He also inquired about the necessary measures being taken by Ladakh Police to sensitize the parents of the juveniles who indulge in weak beating the affray and assaults to deter their wards from involving themselves in such acts. He emphasised the need to send a strong message to such juveniles and their families found indulging in violent conduct.
LG inquired about the Juvenile Observation Centres along with the De-addiction and Rehabilitation centres in Ladakh. He instructed Ladakh Police and Social Welfare Department to make the Juvenile Observation Home fully functional with adequate staff and security arrangements so that juveniles in conflict with the law can be kept there. He also instructed Social Welfare Department to expedite the construction of the De-addiction centres along with Disability Rehabilitation centres in Ladakh and ensure its completion at the earliest.
He emphasized the need to improve the public transport system in Ladakh and inquired about the feasibility of purchasing buses and then outsourcing its operation under a legal MoU to willing parties. He also inquired about several other issues such as the inconvenience faced by tourists due to the blockage of the road in Nubra due to the widening work of the road; the damage caused by the attack of the snow leopard in Shey village; issues related to Ward & Watch/Mali and labourers, etc.
The departmental secretaries informed HLG about the progress of various works in their respective departments along with pending works.   
Principal Secretary, Pawan Kotwal, IAS; ADGP Ladakh Police, Satish Khandare, IPS; Commissioner Secretary, Ajeet Kumar Sahu, IAS; Commissioner Secretary, Padma Angmo, IIS; Secretary, Mehboob Ali Khan, IRS; Secretary, Yetindra Maralkar, IAS; Secretary, Law, Fayaz Ahmed Sheikh and other officials were present in the meeting.