L-G chairs departmental meetings
By
Reach Ladakh Correspondent
Leh, May 14, 2020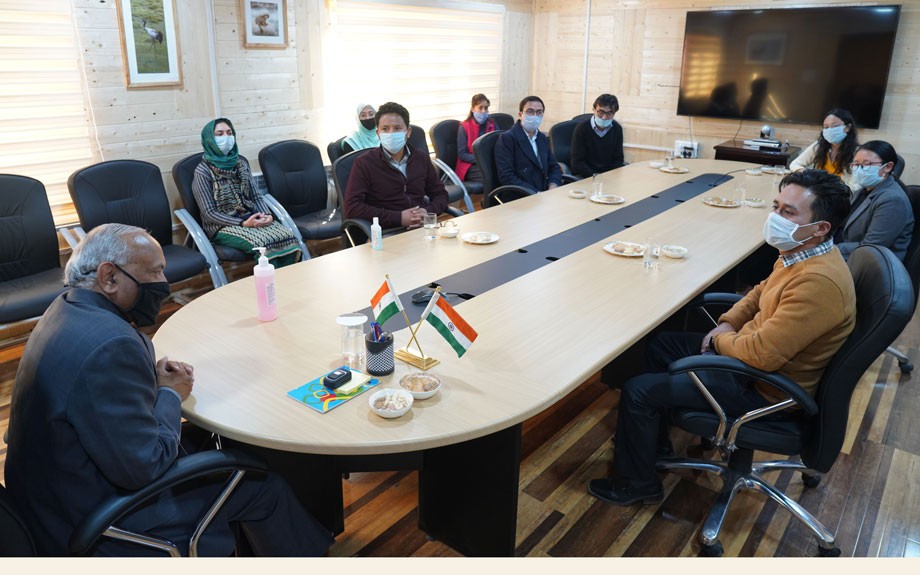 Leh :
Lieutenant Governor, R.K. Mathur discussed the annual plan, expenditure targets of Horticulture, Cooperatives and PWD departments on May 13 at Raj Niwas.
The meeting also discussed the implementation of decisions made in the previous meetings.
Umang Narula, Advisor to Lt. Governor; Rigzin Samphel, Commissioner Secretary Ladakh; Directors and District Officers of the concerned departments were present.
While discussing the agendas of Horticulture Department, R K Mathur emphasized on taking innovative measures to promote the cultivation of aromatic and medicinal plants on the hills across Ladakh and to focus on maximizing farmer's income. He exhorted DRDO to lend technical expertise to the Horticulture Department in pest management, particularly for apricots and apples to make these indigenous fruits suitable for export outside Ladakh.
Discussion on expanding Horticulture, construction of polycarbonate greenhouses, organic farming, water resource, post-harvest management and solar dryer as major projects under the proposed budget outlay for the year 2020-21 was carried out.
Director Horticulture Ladakh; Tarvinder Singh; Director DRDO; O.P. Chaurasia, Chief Horticulture Officer, Leh and Sr. Scientist from DRDO, Leh; Chief Engineer, PWD, P.L. Angurana; Superintendent Engineer, PWD, Pradeep Kumar Leh; Additional Registrar Anil Koul and Dy. Registrar Leh were present in the meeting.
While discussing PWD, R K Mathur directed to clear liabilities of contractors under languishing projects within a month. He exhorted the department to gear up and initiate planning processes of new works under the budget plan of 2020-21. He asked them to ensure daily submission of progress to the Commissioner Secretary. 
R K Mathur said that any problem of labour, material and machinery in the execution of planned projects should be promptly addressed. The works should continue during winters. 
He stressed on Department of Cooperatives to start adequate and timely stocking of essential commodities for winters with proper planning. He directed them to work on a proposal for airlifting of vegetables in winters for public requirements. 
The department informed about a proposal for a milk pasteurization plant in Kargil, 5 milk chilling machines for Leh and Kargil and construction of feed shed projects in Durbuk, Nyoma and Zanskar. 
Series of departmental meetings started from May 11 at Raj Niwas. Department of Power Development, Renewable Energy, Higher Education, CA&PD, Irrigation & Flood Control and Youth Services & Sports also attended the meeting in the last two days.