L-G chairs 3rd University Council meeting
By
Reach Ladakh Correspondent
Leh, May 13, 2023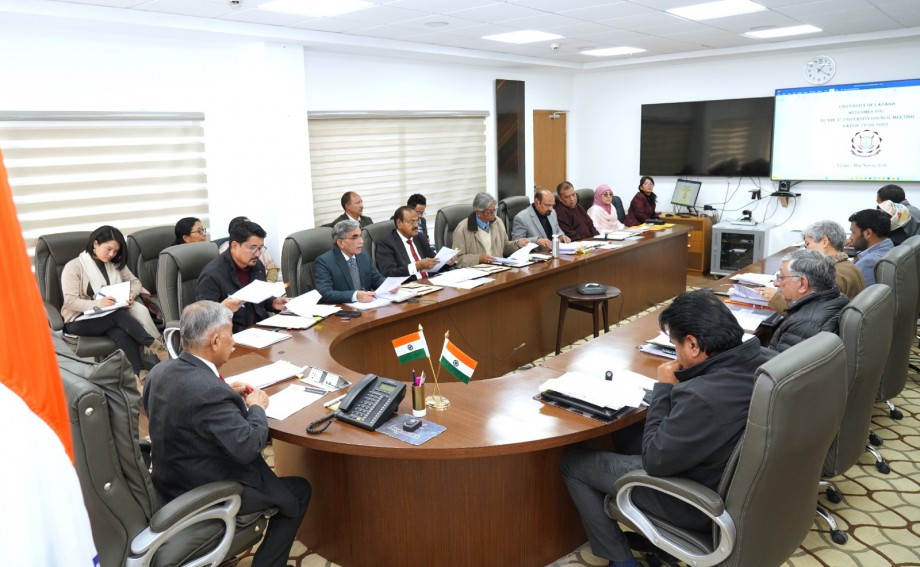 Leh :
Lieutenant Governor of Ladakh, Brigadier (Dr) BD Mishra (Retd) chaired the 3rd University Council Meeting of the University of Ladakh, at Raj Niwas on May 13.
Vice-Chancellor, UoL, Prof SK Mehta informed the members of the University Council about various activities, developments, and achievements of the University, including the implementation of National Education Policy-2020 in post-graduation courses from last year; the admission for various post-graduate/undergraduate courses in the University; the recruitment drives at the University; the setting up of National Knowledge Network in UoL Campus and Colleges; the sanctioning of the herbal garden by Ministry of AYUSH; various sports events, workshops, and conferences held at UoL Campus and Constituent Colleges and MoUs signed with leading organisations from India and abroad, etc.
Registrar, UoL, Asok K Sharma, apprised LG of the action taken report of the 2nd University Council meeting held last year, viz. transfer of satellite campuses of the University of Kashmir to UoL; installation of two 100 KWp solar power plants at two of its Campuses; various construction activities; adoption of Government Middle School, Karith; additional land allotted to UoL; permission to its faculty for pursuing part-time Ph.D. from private universities; creation of more posts; establishment of South Asian & Central Asian Studies and Himalayan & Trans-Himalayan Studies at UoL; establishment of Tribal Research Institute at Kargil Campus; formation of Ladakh Region Knowledge Cluster; budgetary allocation of Constituent Degree Colleges and consider for placement of funds of all Constituent Colleges at disposal of UoL in form of Grant-in-Aid; place the faculty and staff of Constituent Colleges under UoL, etc.
There was discussion on the need for change in the University of Ladakh Act along with the recruitment rules.
LG instructed that necessary guidelines laid down by University Grants Commission (UGC) have to be followed for the recruitment of staff for the University. Further, any amendment to the University of Ladakh Act, along with legal backing, must have the students benefitting impact and should be fully supported by cogent and genuine reasons in the public interest, he stated.
He also launched Himbabs- the college magazine of Govt Degree College, Drass.  
Chairman, LAHDC Kargil, Feroz Ahmed Khan; Chairman, LAHDC Leh, Tashi Gyalson; Advisor, Umang Narula; Vice-Chancellor, UoL, Prof SK Mehta; Commissioner/Secretary, Padma Angmo; Vice-Chancellor, Mata Vaishno Devi University, Prof RK Sinha; former Vice-Chancellor, University of Kashmir, Prof Talat Ahmed; Principals and other officials from UoL and Constituent Colleges were present in the meeting.