Kargil Vijay Diwas: Leh pays tributes to martyrs of Kargil war
By
Reach Ladakh Correspondent
Leh, Jul 27, 2022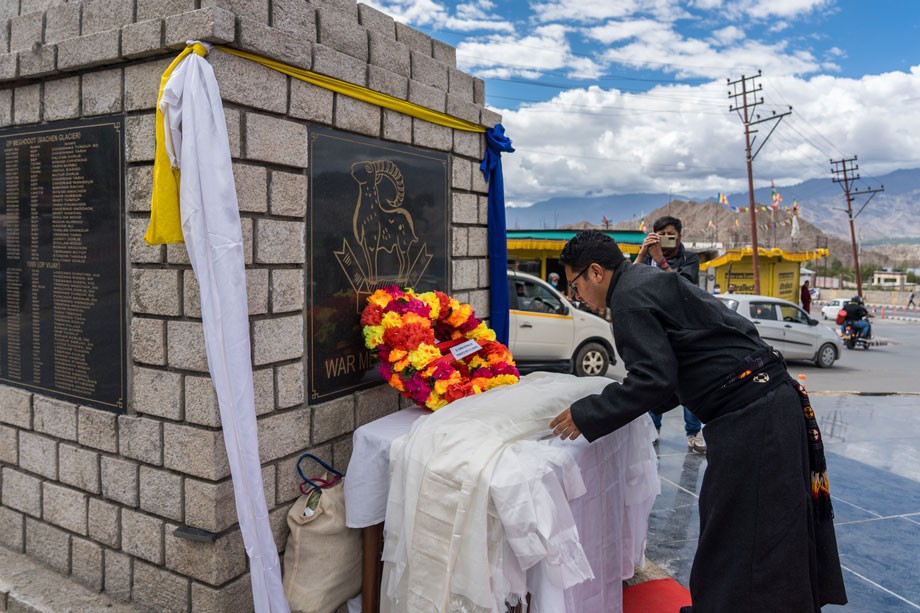 Leh :
Department of Tourism Leh in collaboration with the Ex-Servicemen League celebrated the 23rd Operation Vijay Diwas at the War Memorial, Leh to commemorate India's win over Pakistan on July 26, 1999.
Paying tributes to the brave hearts that made the ultimate sacrifice defending the nation, the chief guest of the occasion, Principal Secretary, Dr. Pawan Kotwal said that July 26 is a day of great pride for the nation as our valiant forces routed the enemy and took back the occupied territory. Highlighting the role of the Ladakh Scouts in winning the war, Dr Kotwal said that the Ladakh Scouts have been awarded gallantry awards such as Maha Vir Chakra, Kirti Chakra, Vir Chakra, and Shaurya Chakra awards among others for their valour and heroism in the defense of our motherland. 
The borders of our nation are secure because our forces are always ready to defend our borders, he added.
Honouring the sacrifices made by the Indian Army during the Kargil War, President LBA, Thupstan Chhewang said that Pakistan's conspiracy to capture the border failed miserably as the brave Indian Army gave them a befitting reply. Emphasizing the important role played by the Ladakh Scouts in the three-month-long war, Thupstan Chhewang said that soldiers of the Ladakh Scouts defeated the enemy and changed the course of the battle.
Expressing his gratitude to the Ladakh Administration for collaborating with the Ex-Servicemen, President of the Ex-Servicemen League, Honorary Captain Sonam Morup said that the struggles endured, challenges faced and sacrifices made by the Ladakh Scouts must never be forgotten. He hoped that in the future Kargil Vijay Diwas is celebrated on a grander scale so that the Kargil war will be a part of the memory of the younger generations.
Executive Councillor, LAHDC Leh, Stanzin Chosphel; Executive Councillor, LAHDC Leh, Ghulam Mehdi; Commandant, Ladakh Scouts, R.S.Parihar; Additional Secretary, Home Department, Tashi Dolma; War Veterans and next of kin of slain soldiers paid homage to the soldiers who laid down their lives in the 1999 war.