Kargil celebrates 6th International Yoga Day
By
Reach Ladakh Correspondent
Kargil, Jun 21, 2020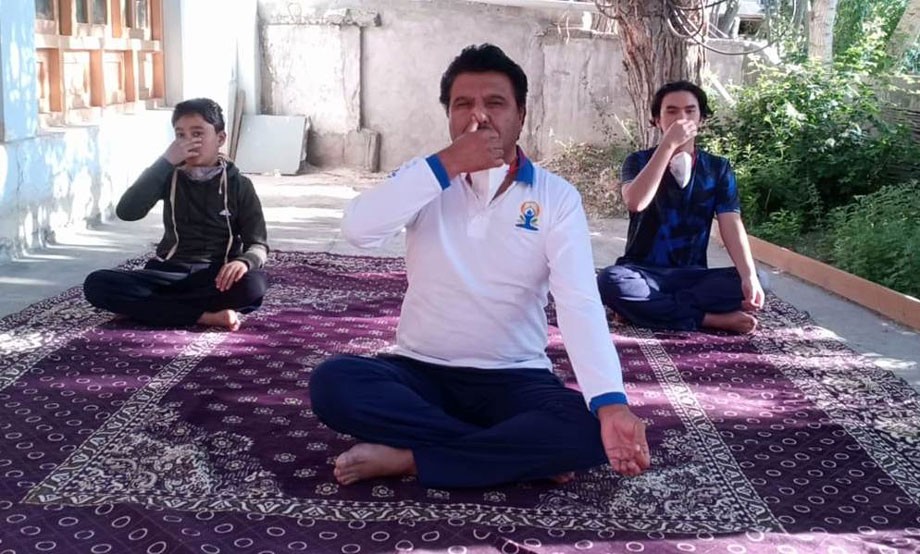 Kargil :
The 6th International Yoga Day was celebrated with enthusiasm across Kargil district on June 21.
 
Because of the ongoing COVID-19 pandemic situation, all the officials, heads of political and social organizations, and elected representatives performed yoga at their respective homes with families.
 
Feroz Ahmed Khan, CEC Kargil highlighted the importance of yoga as a form of exercise in maintaining physical and mental fitness and to bring harmony between mind and body. He urged people to make it an integral part of their lives. 
 
While highlighting the importance of yoga during the ongoing COVID-19 pandemic situation Mubarak Shah Nagvi, EC Works said that it helps in boosting the immunity of the human body to fight with different ailments and people should make it a habit to practice yoga.
 
Muhammad Ali Chandan, EC Health urged youngsters as well as the elderly people to practice yoga regularly which has a lot of health benefits associated with it including physical and psychological well being. 
 
Baseer ul Haq Choudhary, DC Kargil said that International Yoga Day is an ideal occasion to reiterate our commitment towards the safeguard and promotion of the intrinsic values of the Indian civilization.
 
He said that Yoga is the best all-round physical exercise to bring positive changes in the physical and mental development of individuals and need of the hour is to promote yoga among the younger generation as well as in the families. 
A video yoga contest was also held among the school children of the district wherein 9 entries were received by the District Administration. A certificate of merit and cash prize of ₹ 3000, 2000, 1500, and 1000 was presented to the top 4 winners.