Jal Jeevan Mission: CEC, Kargil, flags off Prachar Rath, workshop van, water tanker 
By
Reach Ladakh Correspondent
Kargil, May 12, 2023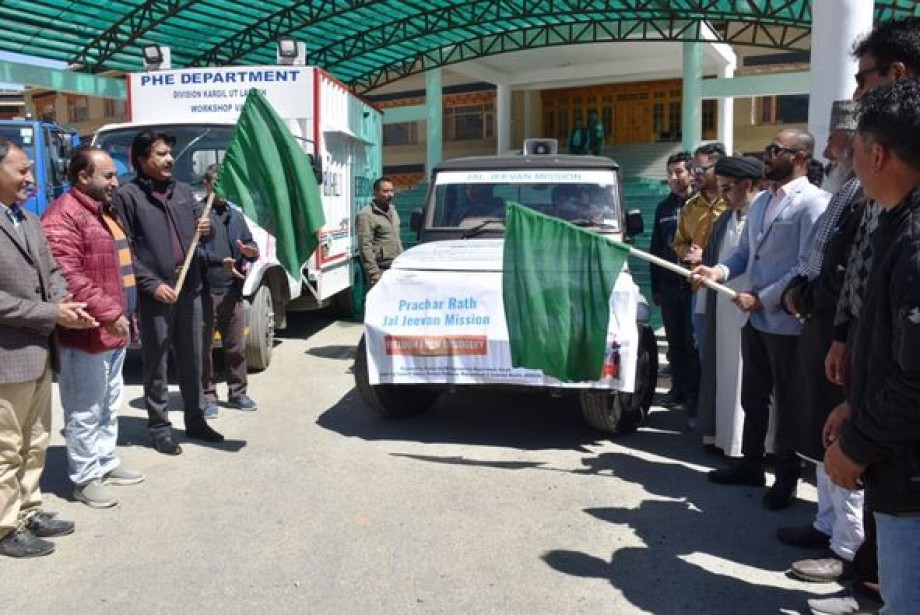 Kargil :
Prachar Rath, Workshop Van and Water Tanker of Jal Jeevan Mission (JJM), to spread awareness among communities regarding JJM was flagged off by Chairman/CEC, LAHDC, Kargil, Feroz Ahmad Khan in the presence of DC, Kargil, Santosh Sukhadeve on May 11.
The Prachar Rath also aims to make Pani Maah (Water Month) in the Kargil district successful. Pani Maah is a comprehensive month-long campaign that will be held at Block and Panchayat level across the Kargil district. 
CEC inspected the equipment and other facilities available in the vehicles and appreciated the initiative of the PHE Department and the objectives of the month-long campaign. He said that the campaign will ensure clean and safe drinking water in every village, extensive water testing at the source and delivery points with the involvement of the community like the Village Women Committee and user groups.
CEC talked about the importance of Pani Mah and efforts to be taken by the JJM to aware people of the 125 villages in Kargil district. He said the initiative will train people about the use of water testing equipment.
Khan said the workshop van will remove the electricity problems in villages. He directed the PHE department to complete the targets of Pani Mah and ensure safe drinking water facilities at the doorsteps of people.
DC Kargil also talked about JJM works in the district and said 70 percent of the works are completed while the remaining will be completed in a short period of time. He said the JJM scheme ensures the purity of water that helps in the elimination of various diseases caused by contaminated water. To make the scheme 100 percent successful, the department needs public cooperation and participation.
SE Maqbool Hussain explained the objective of JJM and the initiative of providing vehicles for awareness in the villages. He said the Village Women Committee at every village will be guided with proper training and also equipped with Field Testing Kits (FTK).
To implement this campaign at the ground level, representatives like Councilors, BDC Chairpersons, Sarpanchs, Panchs, and people will also be involved and imparted detailed training for the purpose.