Innovator Sonam Wangchuk receives 7th Dr. Paulos Mar Gregorios award 
By
Reach Ladakh Correspondent
New Delhi, Nov 28, 2022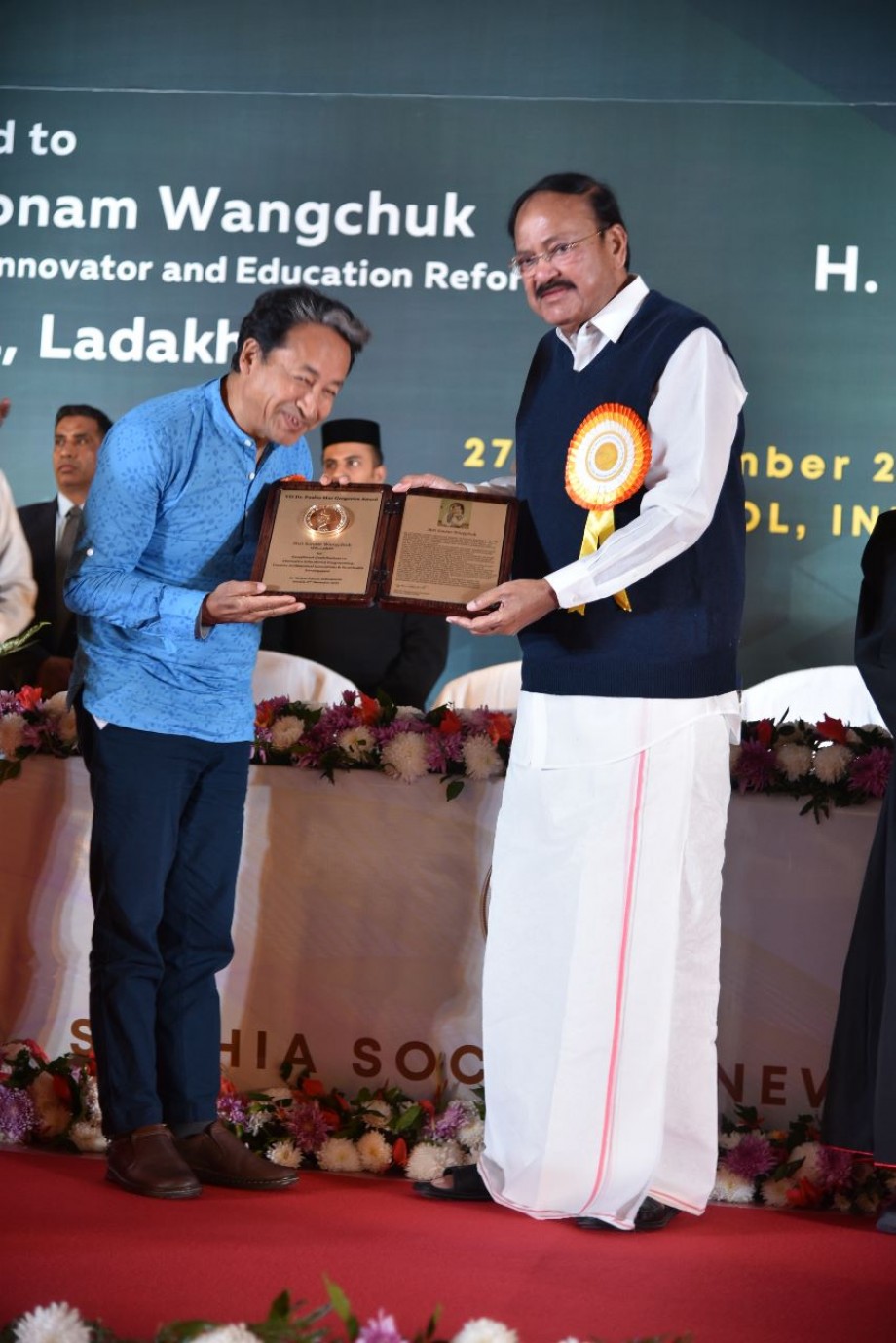 New Delhi :
Renowned educationist and social innovator Sonam Wangchuk was awarded the 7th Dr. Paulos Mar Gregorios Award on November 27 for outstanding contribution to creative innovation and sustainable development. 
The award ceremony was held at St Thomas School grounds in Ghaziabad.  Former Vice President of India, Venkiah Naidu was the chief guest of the function. 
Venkiah Naidu hailed the role of social and religious organizations in ensuring the sustainable development of the world we live in. Former Union Minister Salman Kurshid delivered the keynote address on the occasion. 
Sonam Wangchuk is an Indian Engineer, Innovator, and Education Reformist. In 1988, he founded SECMOL (Students Educational and Cultural Movement of Ladakh), with the aim of supporting Ladakhi children and youth in educationally challenging and culturally confusing times. In 1994, he launched Operation New Hope to bring reforms to the government school system. He founded the SECMOL Alternative School Campus to train the students whom the system termed as failures but are the ones who are the victims of a redundant education system. He has been instrumental in designing the low- cost solar heated buildings made of mud to maintain a formidable temperature in Ladakh winters. Ice Stupa has been yet another pioneering invention towards solving the water
crisis facing mountain regions. HIAL (Himalayan Institute of Alternatives), a hands-on-doer fully solar-heated mud University township is the most recent contribution. An internationally acclaimed figure, Sonam has received international recognition by being the recipient of the Magsaysay Award (2018), GQ Men of the Year Award for Social Entrepreneur of the Year (2017), Rolex Award for Enterprise (2016)  & Green Teacher Award (2005), etc.
Instituted by the Sophia Society of the Malankara (Indian) Orthodox Church, the Dr. Paulos Mar Gregorios award is given every alternate year in memory of the first Metropolitan of Delhi Diocese and world-renowned philosopher Dr. Paulos Mar Gregorios. 
Dr. Paulos Mar Gregorios was a lifelong seeker of knowledge, truth, and the transcendent source of our being. His philosophy of freedom and love for humanity has inspired many. He was a gift of God: scholar, evangelist of peace, harmony, and disarmament, author, linguist, theologian, socio-political thinker, and crusader against exploitation, discrimination, and neo-colonialism.  He was an ecumenical leader devoted to inter-faith dialogue; President, of the World Council of Churches; articulator of the Orthodox Christian faith across the world; exponent of sacred traditions; advocate of women's empowerment, holistic health, environmental integrity, and lover of nature. 
 
During the function His Holiness the Catholicos Moran Mar Baselios Marthoma Mathews III, Supreme Head of the Orthodox Church in India, and Dr. Youhanon Mar Demetrios, Metropolitan of Delhi Diocese, were present. 
A book written by Fr. K M George on the life and thoughts of Paulos Mar Gregorios was also released on the occasion.