Indian army organises veterinary camp in Koyul village
By
Reach Ladakh Correspondent
Koyul, Nov 11, 2022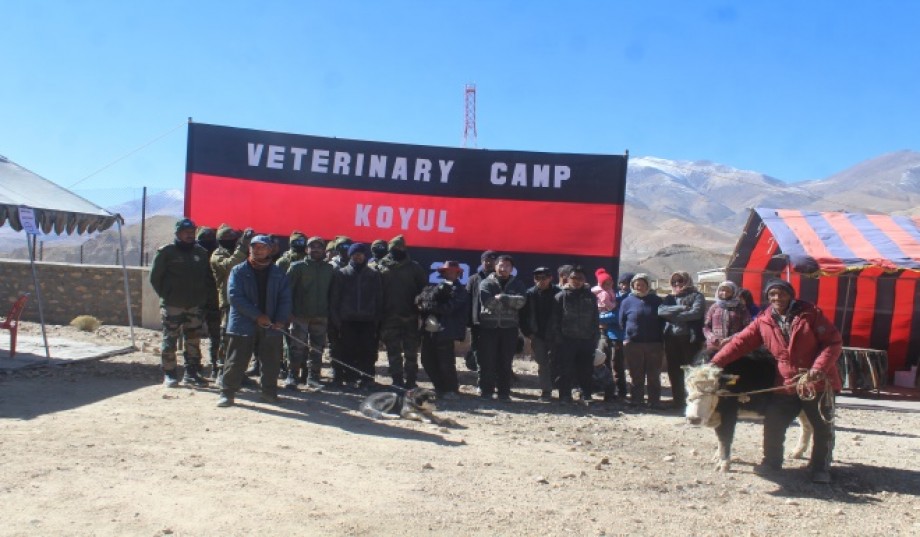 Koyul :
Units of Uniform Force under the aegis of Fire and Fury Corps conducted a Veterinary Camp at Koyul village in coordination with civil administration under 'Op Sadbhavana' on November 10.
Koyul is a border village located at an altitude of nearly 13800 feet. The livelihood of the people of the Koyul village is mainly dependent upon the rearing of livestock. However, the area is deprived of basic veterinary facilities. Considering the hardship faced by the villagers and to assist the community members the veterinary camp was conducted.
Veterinary medicine was distributed along with guidance to ensure better health of the livestock. The Indian Army veterinary team carried out treatment of 32 goats, 17 cattle, and 15 dogs in the village. The aid provided included feed supplements, appetizers, dewormers, etc, and treatment of some common diseases such as Bovine viral disease, cutaneous infections, and wound dressing. The government veterinary doctor and community members of the village assisted the Indian Army team in the successful conduct of the veterinary camp and commended their efforts.  
An awareness lecture on the prevention of the spread of contagious diseases and lumpy skin disease was also organised for the grazer community of the area.