Incubation Cell UT Ladakh organizes awareness camp for MSMEs in Kargil
By
Reach Ladakh Correspondent
Kargil, Nov 08, 2022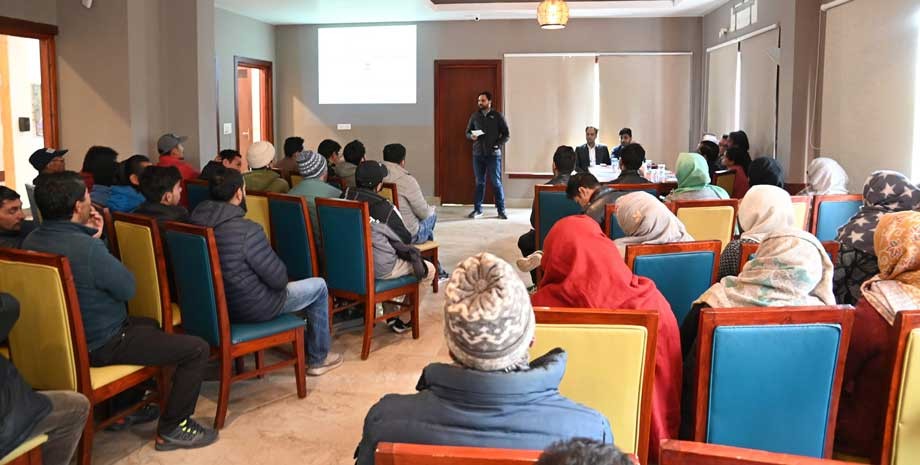 Kargil :
An awareness camp for Micro Small and Medium Enterprises of Kargil (MSMEs) to educate sellers about the challenges in e-commerce was held on November 8 in Kargil.
The awareness camp was organised by the Incubation Cell UT Ladakh in collaboration with the Directorate General of Foreign Trade (DGFT), Federation of Indian Export Organisation (FIEO), India post official, Customs Official, and Sayaansh (e-commerce portal).
Various topics including the issuance of Importer/Exporter Code (IEC), incentive schemes, Market Access Initiative (MAI)/Market Development Assistance (MDA) schemes, among others were discussed. 
Experts Sahil Mahajan (Owner of Sayaansh e-commerce portal) and Gaurav Gupta (FIEO) gave detailed insight into how exporters can safeguard their shipments and money for exports. Also, the entrepreneurs were briefed about Indian Business Portal and Indian Trade Portal.
Entrepreneurs, incubatees, and various SHGs attended the camp. The attendees flagged various queries concerning their respective fields and explored possible solutions with the experts. 
Later, the participants expressed their gratitude to Incubation Cell UT Ladakh for conducting such camps to fill the information gap which can assist new and struggling entrepreneurs to navigate through challenges in their entrepreneurial journey successfully. They also hoped to organize such camps in the future.