Imteeaz Kacho visits Anganwadi centres of Sankoo
By
Reach Ladakh Correspondent
Kargil, Nov 12, 2022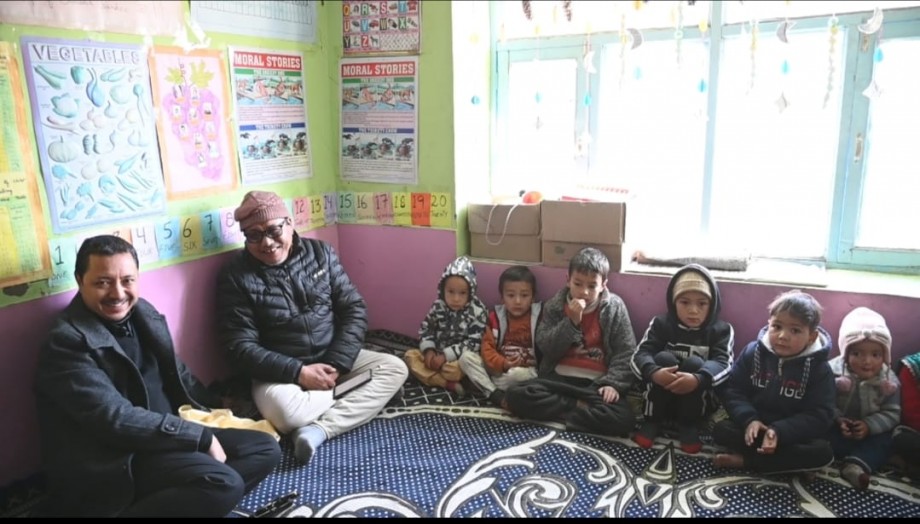 Kargil :
Programme Officer, ICDS Kargil, Imteeaz Kacho visited various Anganwadi centres of Sankoo Project and took an assessment of services and facilities being provided through the Anganwadi Centres to the beneficiaries on November 12.
Programme Officer was accompanied by CDPO Sankoo and supervisors.
During the tour, he visited Anganwadi Centres of Banalsa and Lamphet and interacted with the concerned officers, Anganwadi workers, parents, and children. He appreciated the amazing work done by Mansoora Bano, the immensely dedicated and hardworking Anganwadi Worker of the Centre in Banalsa who has singled-handedly nurtured the Centre. He added that the Centre's good practices and success story has become a model for all other Centres of ICDS-Kargil to replicate.
The Programme Officer took a ground assessment of Aadhaar registration in the Project and gave directions for completing the pending registrations at the earliest.
He further directed the concerned Anganwadi Workers to update data regularly on the Poshan Tracker app. He also directed the Anganwadi Helpers to maintain cleanliness in the Centres.  
Kacho also took an assessment of nutrition and other logistics required for the smooth functioning of the Centres and assured regular supply of necessary logistics, etc.
The Programme Officer further informed that, as scheduled, selected Anganwadi Workers of Sankoo Project will soon be sent to the Regional Centre of NIPCCD for training in order to increase their work efficiency and to help them gain exposure.
He further instructed the concerned Anganwadi workers to work with dedication in the future as well. Meanwhile, he expressed satisfaction over the functioning of the Banalsa Anganwadi centre and also appreciated the work of the concerned Anganwadi worker.